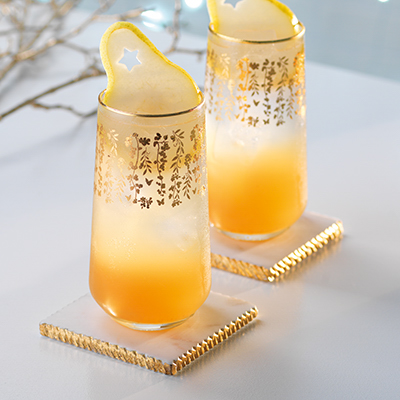 Ingredients
Serves 1
1½ oz (45 ml) Sailor Jerry's Spiced Navy Rum
1 oz (30 ml) Spiced Pear Cordial, make ahead, recipe follows
Instructions
In a cocktail shaker with ice, combine rum, cordial and lemon juice. Shake vigorously and strain into a Collins glass over cubed ice. Top with soda water and garnish with sliced pear.
MAKE IT A MOCKTAIL: Prepare as above, omitting spiced rum from recipe.
TO MAKE SPICED PEAR CORDIAL: In a saucepan, combine 2 cups (500 ml) pear juice, 1 cup (250 ml) sugar, 1 tbsp (15 ml) cracked whole allspice, 1 cinnamon stick, 1 tsp (5 ml) citric acid and simmer to dissolve sugar. Once dissolved, remove from heat to cool. Strain out solids and seal in a bottle. Can store in refrigerator for up to 2 weeks.
Featuring