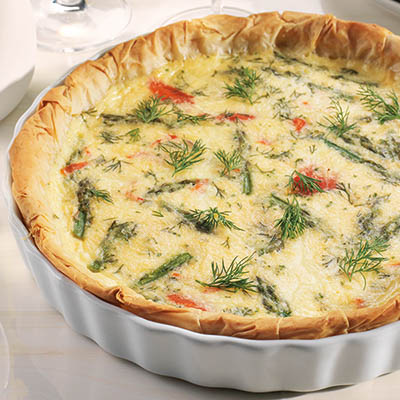 SALMON AND ASPARAGUS QUICHE
Ingredients
Serves 6 to 8
2 cups (500 ml) whipping cream
1 tbsp (15 ml) kosher salt
1 tbsp (15 ml) dill, chopped
1 tbsp (15 ml) chives, chopped
1 tbsp (15 ml) lemon zest
⅓ package phyllo pastry, defrosted
½ cup (125 ml) butter, melted
1 lb (500 g) smoked salmon lox, chopped
1 bunch asparagus, trimmed, cut into 1-in (2.5 cm) pieces
Instructions
Preheat oven to 350 F (180 C).
Mix cream, eggs, egg yolks, salt, pepper, dill, chives and lemon zest together. Set aside.
Line a 9-in (23 cm) fluted quiche pan with phyllo dough. Brushing phyllo with melted butter between each layer. Trim excess phyllo, push cut edges under themselves to create a crust. Place pan on a baking sheet.
Lay salmon and asparagus in quiche pan. Cover with custard, leaving ¼-in (0.5 cm) of space from top. Bake for 45 minutes, rotating pan halfway through, or until quiche is only slightly jiggly in middle and crust is golden. Cool for at least 20 minutes before eating.
Drink Pairings