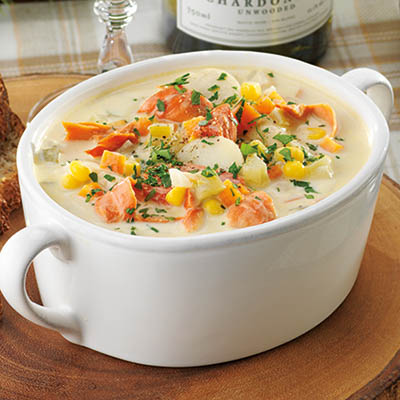 Ingredients
Serves 6
3 tbsp (45 ml) unsalted butter
4 medium carrots, peeled and diced
1 cup (250 ml) hard apple cider
8 new potatoes, sliced into ½-in (1 cm) widths
1 cup (250 ml) frozen corn kernels
1½ tsp (7 ml) dried thyme leaves
3 cups (750 ml) vegetable stock, divided, plus extra
2 cups (500 ml) whole milk
1 tbsp (15 ml) all-purpose flour or brown rice flour
1 cup (250 ml) whipping cream
12 oz (340 g) hot smoked salmon, skinned and broken into bite-sized pieces
salt and freshly ground pepper, to taste
2 tbsp (30 ml) chopped parsley leaves or chopped chives, for garnish
Instructions
Heat butter in a large pot or cast-iron Dutch oven over medium-high heat. Add onions, carrots and celery. Cook, stirring often, until vegetables have softened, about 5 minutes. Add hard cider, scraping up any brown bits from bottom of pot with a wooden spoon, and bring to a boil. Add potatoes, corn, thyme and 2 cups (500 ml) stock. Simmer until potatoes are forktender, about 5 to 8 minutes.
Whisk together milk and flour then add to pot along with remaining 1 cup (250 ml) stock. Simmer until soup starts to slightly thicken, about 5 to 10 minutes.
Just before serving, stir cream and salmon into soup. Cook until salmon is warmed through, about 2 minutes. If too thick for your liking, thin with some more broth. Adjust seasoning to taste. Divide among serving bowls and garnish with a sprinkle of parsley or chives. Serve warm.
Drink Pairings