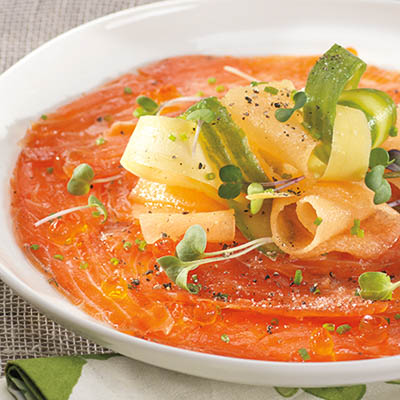 SALMON CARPACCIO WITH MELON AND CUCUMBER SALAD
Ingredients
Serves 6
1 lb (500 g) salmon fillet, skin on
2 tbsp (30 ml) fennel seeds
¾ cup (175 ml) kosher salt, plus extra for seasoning
¾ cup (175 ml) granulated sugar
2 tbsp (30 ml) white ground pepper
½ cup (125 ml) chopped fresh dill
½ cup (125 ml) chopped fresh parsley
1 tbsp (15 ml) lemon zest, divided
1 tbsp + 1 tsp (20 ml) unseasoned rice
3 tbsp (45 ml) extra-virgin olive oil
1 tbsp (15 ml) chopped fresh chives
¼ cantaloupe, rind and seeds removed
salmon roe, optional, for garnish
micro greens or baby arugula, for garnish
Instructions
Remove pin bones from salmon and refrigerate salmon until ready to use.
In a small frying pan toast fennel seeds over medium heat, stirring often, until fragrant, about 4 minutes. Let cool slightly before transferring to a bowl and mixing together with salt, sugar and white pepper.
In a separate bowl, stir together dill, parsley and 2 tsp (10 ml) lemon zest until herb mixture is well combined.
Place half the herb mixture in bottom of a glass baking dish, or a dish lined with plastic wrap, large enough to hold salmon. Sprinkle half the salt mixture over herb mixture before placing salmon, skin-side down in dish. Sprinkle fish with remaining salt mixture before topping with remaining herb mixture. Press lightly into flesh to adhere herbs to salmon. Cover dish tightly with plastic wrap and refrigerate for 3 full days. Turn salmon over once per day.
The day carpaccio is to be served, scrape seasonings off salmon and wipe with a damp paper towel. Using a very sharp carving knife, slice salmon as thinly as possible. If not using right away, place slices between pieces of parchment paper and store in refrigerator until ready to use, no longer than a day.
In a small bowl, whisk together remaining 1 tsp (5 ml) lemon zest, rice vinegar and olive oil until well combined. Stir in chives, season to taste with salt and set dressing aside.
Using a vegetable peeler or mandoline, shave cucumber and zucchini into wide ribbons, stopping when you reach the seeds. Toss in a large bowl with 1 tbsp (15 ml) prepared dressing and let sit for 10 minutes. Meanwhile, shave cantaloupe into ribbons.
To serve, arrange several slices of salmon in a single layer on chilled serving plates and drizzle with some of the dressing.
Toss cantaloupe ribbons with marinating cucumber and zucchini ribbons before placing a tangle of salad atop each plate of salmon. Garnish with salmon roe (if using), a shower of micro greens and an extra drizzle of dressing. Serve immediately alongside thin slices of toasted pumpernickel bread, if desired.
Drink Pairings