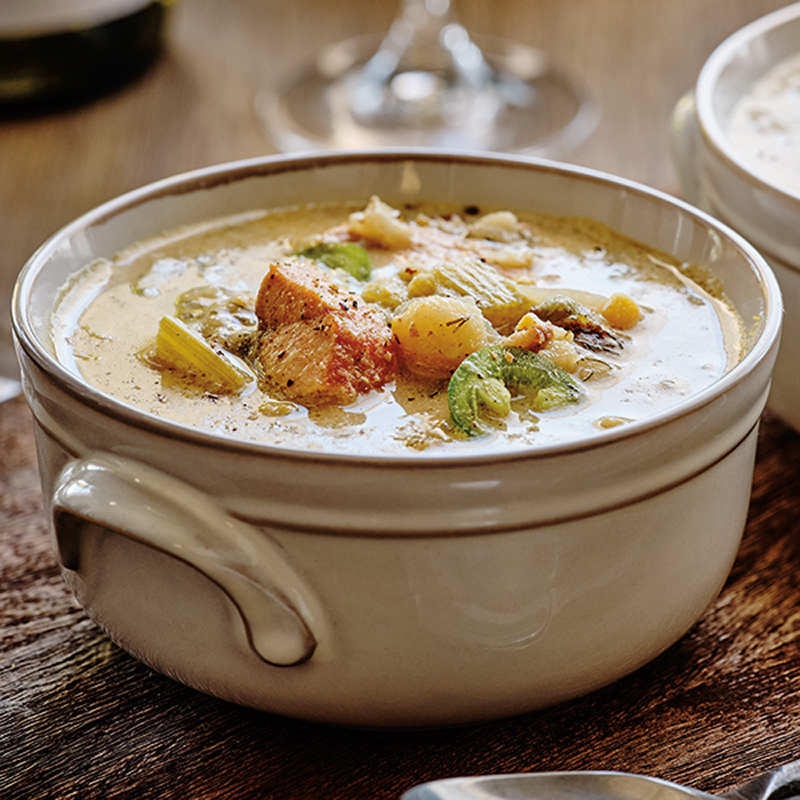 Salmon Chowder
This is a perfect mid-week meal, easy to make and easy to clean up.
Ingredients
Serves 4
4 slices thick-cut bacon, sliced
2 tbsp (30 ml) salted butter
2 medium russet potatoes, peeled and cubed
4 cups (1 L) stock (vegetable, fish or chicken)
1 x 14 oz (398 ml) can creamed corn
1 cup (250 ml) half-and-half cream
1 tsp (5 ml) dried tarragon
1 lb (500 g) salmon, skin removed, cubed
½ cup (125 ml) chopped dill
½ jalapeño, thinly sliced
Instructions
In a large saucepan with a lid, over medium-high, render bacon until crispy, about 8 minutes. Set bacon aside and discard any leftover oil.
In same saucepan, heat butter over medium-high. Add celery, onion, garlic and potatoes. Sauté until just soft, about 8 minutes. Add stock, corn, half-and-half cream and tarragon. Reduce heat to low and cook until potatoes are soft, about 15 to 20 minutes. Add salmon, dill and jalapeño. Cook over low until salmon is cooked through, about 5 minutes, then add reserved bacon to heat through and serve.
Keeps in refrigerator for up to 4 days.
Drink Pairings