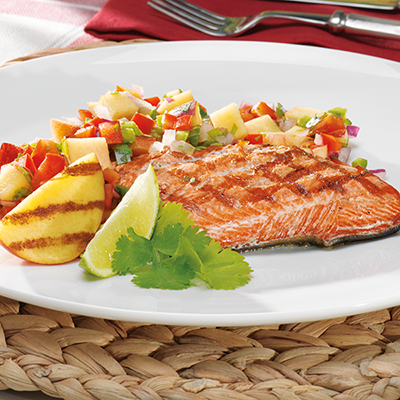 SALMON WITH GRILLED NECTARINE SALSA
Ingredients
Serves 2
1 cup (250 ml) cilantro, chopped
1 tbsp (30 ml) neutral-flavoured oil
2 nectarines, halved, pitted
2 x 3 oz (90 g) salmon fillet, skin on
½ lime, cut into wedges, for garnish
Instructions
Preheat barbecue to medium-high with lid closed.
In a medium bowl, mix diced onion, red pepper, jalapeño, cilantro and lime juice. Season to taste and let sit
Brush grill with oil. Leaving lid open, place cut side of nectarines onto grill for about 3 minutes. Remove and let cool.
Season each salmon fillet with a pinch of salt. Lay flesh side down on grill for about 3 minutes with lid open. Flip salmon and grill for another 3 minutes or until centre is just opaque.
Once nectarines have cooled, dice and add to salsa mixture. To serve, garnish salmon with salsa and lime wedge.
Drink Pairings