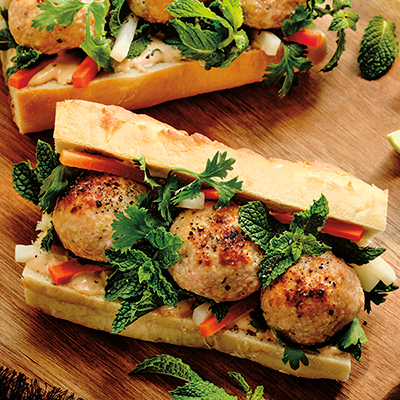 Ingredients
Serves 4
½ cup (125 ml) unseasoned rice vinegar
1 tbsp (15 ml) granulated sugar
½ cup (125 ml) matchstick-cut daikon radish
½ cup (125 ml) matchstick-cut carrot
¼ tsp (1 ml) toasted sesame oil
1 lb (454 g) skinless salmon fillet, cut into chunks
1 scallion, trimmed and roughly chopped
1 tbsp (15 ml) fish sauce
1 tbsp + 2 tsp (25 ml) sriracha, divided
1 tsp (5 ml) granulated sugar
⅓ cup (75 ml) panko bread crumbs
1 large egg, lightly beaten
¼ tsp (1 ml) freshly ground black pepper
½ tsp (2.5 ml) finely grated lime zest
1 baguette, cut into 4 equal pieces, cut nearly in half lengthwise, lightly toasted
1 jalapeño, thinly sliced
¼ cup (60 ml) lightly packed fresh cilantro leaves and tender stems
¼ cup (60 ml) lightly packed fresh mint leaves
Instructions
To make pickled vegetables, in a small saucepan, bring rice vinegar, sugar and salt to a boil. Remove saucepan from heat, stir in daikon, carrot and sesame oil and let cool to room temperature. This pickled vegetable mix, also known as Ð' Chua, may be made up to 2 days ahead and refrigerated in an airtight container along with its pickling liquid.
To make salmon meatballs, start by preheating oven to 350 F (180 C). Lightly oil a rimmed baking sheet and set aside.
Place salmon and scallion in bowl of a food processor and process until salmon is finely chopped. Transfer mixture to a large bowl and add garlic, fish sauce, 1 tbsp (15 ml) sriracha, sugar, panko crumbs, egg and pepper. Stir with a wooden spoon or spatula until well combined. Form into tablespoon-sized balls and place on prepared baking tray. Bake, turning halfway through cooking time if desired, until lightly browned and cooked through, about 15 to 18 minutes.
Meanwhile, in a small bowl, stir together mayonnaise, lime zest and remaining 2 tsp (10 ml) sriracha until well combined.
To assemble sandwiches, open up each piece of bread and spread both halves with mayonnaise mixture. Fill with drained pickled vegetables, meatballs, slices of jalapeño, cilantro and mint.
Drink Pairings