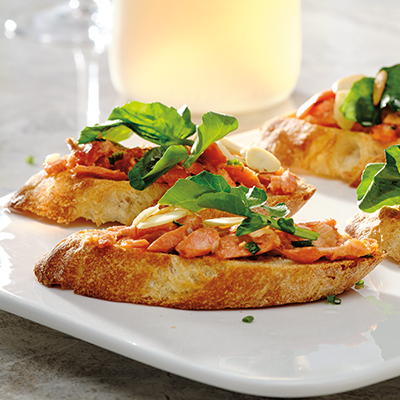 Ingredients
Serves 4 to 6
1 tbsp (15 ml) sunflower oil
1 to 2 cups (250 to 500 ml) dry white wine, for poaching
8 oz (250 g) salmon fillet, cut into 1-in (2.5 cm) cubes, about 1½ cups (375 ml)
3 oz (90 g) smoked salmon, diced, about ¼ cup (60 ml)
2 tsp (10 ml) butter, melted
1 tbsp (15 ml) mayonnaise
1 tbsp (15 ml) minced chives
2 cups (500 ml) watercress
1 baguette, sliced and toasted
½ cup (125 ml) cornichons (small pickles)
¼ cup (60 ml) sliced almonds, toasted
Instructions
Heat oil in a small saucepan over medium heat. Sauté shallot until translucent. Add enough wine to cover salmon and bring to a gentle simmer. Add cubed salmon and cook for a few minutes, until opaque and just cooked through. Strain salmon and shallot, discarding wine, and transfer to a medium bowl. Refrigerate until cooled.
Once cooled, gently flake salmon with a fork and mix in smoked salmon, butter, mayonnaise and chives. Season with white pepper and a pinch of salt, or to taste. Refrigerate rillettes until ready to serve.
To serve, dress watercress with lemon juice and olive oil. Top toasted baguette slices with salmon rillettes and serve watercress and cornichons alongside or on top, garnishing with almonds, as desired.
Drink Pairings