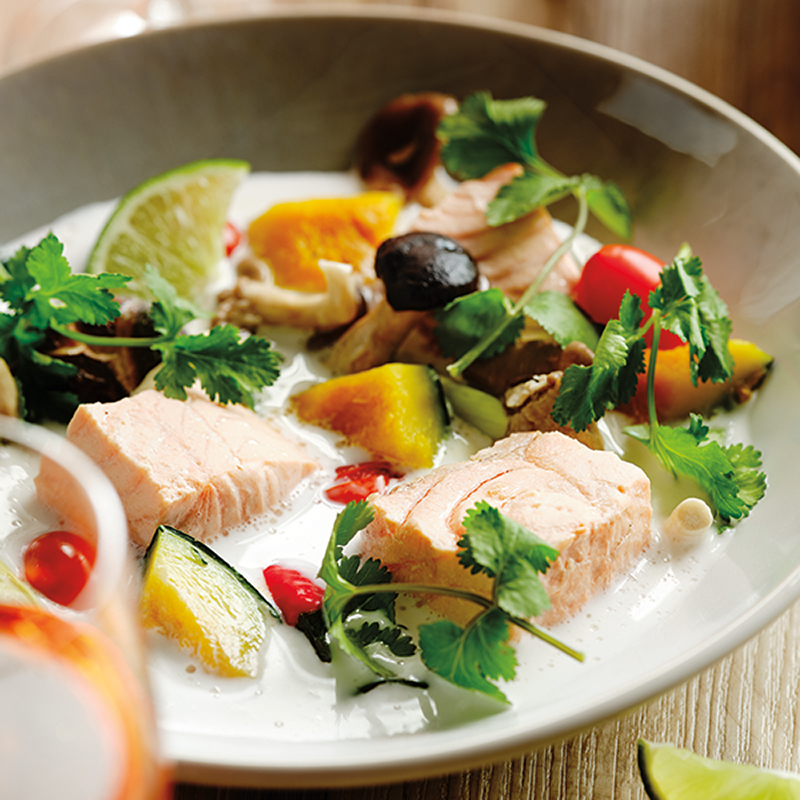 Ingredients
Serves Serves 4
2 x 14 oz (398 ml) cans coconut milk
1 cup (250 ml) chicken stock
3 tbsp (45 ml) fish sauce, plus extra as needed
2 tbsp (30 ml) sugar, plus extra as needed
2 stalks lemongrass, cut in half and lightly pounded
2 x ½-in (1.25 cm) slices galangal
1 to 2 bird's eye chilis, cut in half, or to taste
½ small kabocha squash, seeds removed, cut into 2-in (5 cm) chunks
1 cup (250 ml) oyster or shiitake mushrooms, cut in half
1 lb (500 g) salmon fillet, skin and pin bones removed, cut into 2-in (5 cm) chunks
6 cherry tomatoes, halved
1 handful cilantro leaves, for garnish
2 green onions, julienned, for garnish
Instructions
In a large saucepan, combine coconut milk, chicken stock, fish sauce, sugar, lemongrass, lime leaves, galangal, chilis and squash, and bring to a boil over high heat. Reduce heat to low and simmer, covered, for 10 to 15 minutes, or until squash is just tender. Taste and add more sugar or fish sauce, as desired.
Increase heat to medium and add mushrooms, salmon and tomatoes. Bring back to a simmer, then reduce heat to low. Cover and simmer for another 5 to 8 minutes, or until salmon is cooked through. Remove from heat and add juice of 1 lime. Quarter remaining lime and reserve for garnish.
Portion soup into bowls and garnish with lime wedges, cilantro and green onion.
Drink Pairings