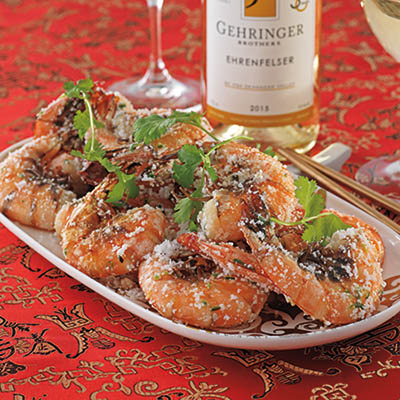 Ingredients
Serves 4 to 6
2 lbs (1 kg) large prawns, about 20 to 25 pieces, in shells
2 green onions, finely minced
3 tbsp (45 ml) Chinese rice wine (Shaoxing) or dry sherry
2 tbsp (30 ml) minced garlic
2 tbsp (30 ml) minced ginger
2 tbsp (30 ml) minced red or green chilies
3 lbs (1.5 kg) coarse rock salt
Instructions
Preheat oven to 475 F (240 C). With scissors or a small, sharp knife, cut through the shell of each shrimp along the centre of the back and make a slit about ½-in (1 cm) deep into the flesh. Remove the vein, if present, and rinse and drain prawns.
In a bowl, mix shrimp, green onions, rice wine, ginger and chilies. Rub some of the marinade into the slits of the prawns. Cover and chill for at least 30 minutes or up to an hour.
In a shallow baking dish, add half the salt and place in oven. Heat for 12 to 15 minutes, or until the salt is very hot. Carefully remove pan from oven and set prawns in a single layer on salt. Cover with remaining, cool salt mixture. Return to oven and bake 10 minutes more, or until prawns are cooked through. Remove from salt and transfer to a platter.
Or, to bake on stove top, place salt in an old wok or clay pot. Cover with lid and heat until salt is very hot, about 10 to 15 minutes. Remove lid and bury shrimp in hot salt. Replace lid and cook for about 1 minute, or to desired doneness. Serve as above.
Drink Pairings