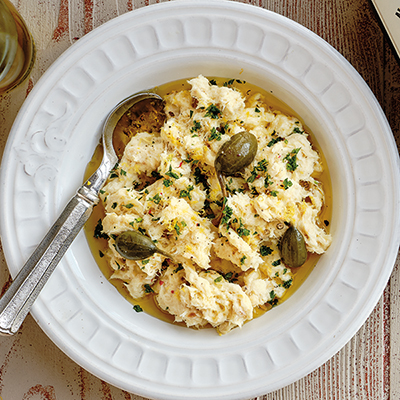 Salt Cod Dip served with Music Bread
Ingredients
Serves 4 to 6
½ lb (227 g) salt cod fillets
1 cup (250 ml) whole milk
5 whole black peppercorns
1 large garlic clove, crushed
1 strip lemon zest, plus extra grated zest for garnish
½ cup (125 m) extra-virgin olive oil, plus extra for garnish
salt, to taste (if needed)
chopped parsley leaves, for garnish
Sardinian music bread or crackers, to serve
Instructions
Soak cod in cold water for 24 hours in refrigerator, changing water 2 to 3 times throughout soaking time.
Rinse cod well. Place in a saucepan and add milk, peppercorns, bay leaf, whole shallot, garlic and lemon zest. Simmer over medium-low heat for 15 minutes, then remove pan from heat and allow to sit for another 15 minutes.
Remove cod from milk. Remove any bones and skin and discard. Discard bay leaf, shallot and lemon zest but reserve milk and garlic.
Transfer cod to a food processor or blender with ¼ cup (60 ml) reserved milk, lemon juice and reserved garlic. Pulse a few times, then with food processor or blender on low speed, drizzle in olive oil until mixture reaches desired consistency of dip, adding more reserved milk to thin out if necessary. Taste and adjust seasoning with salt as needed (you may not need any, depending on saltiness of cod).
Spread dip in a shallow dish, then garnish with lemon zest, parsley and olive oil. Serve with music bread or crackers.
Drink Pairings