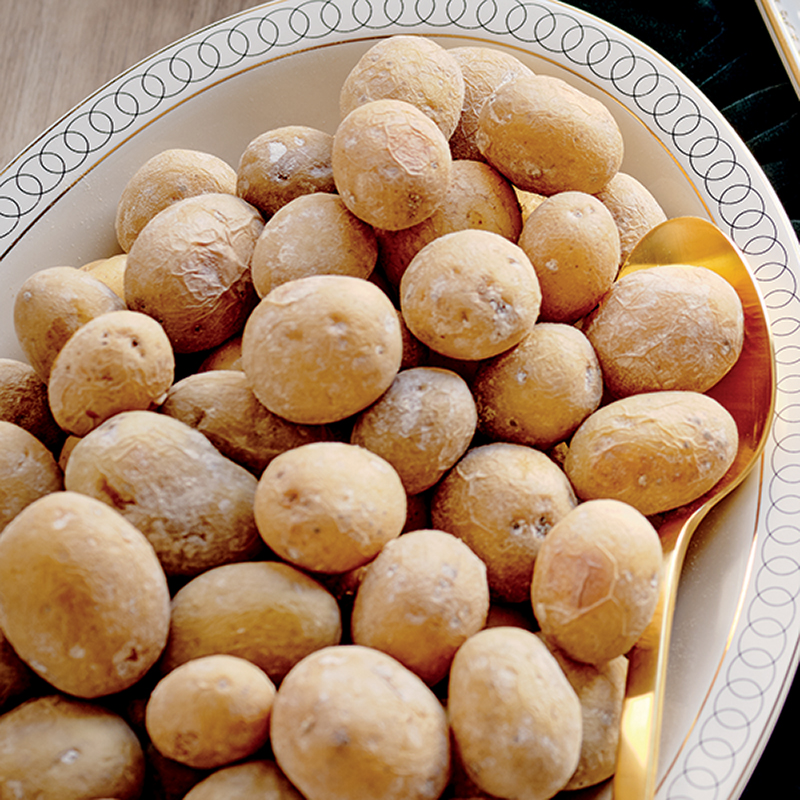 Salt-Crusted Potatoes served with Soft Herb Salsa
Ingredients
Serves 4 - 6
2 lbs (1 kg) small, equal-sized unpeeled potatoes (such as creamers), scrubbed
1½ tbsp (22 ml) fine sea salt
1 medium green jalapeño pepper, seeded, coarsely chopped, or to taste
1 cup (250 ml) tightly packed cilantro leaves
1 cup (250 ml) tightly packed tarragon leaves
1 cup (250 ml) tightly packed flat leaf parsley leaves
1 white anchovy fillet (optional)
¼ cup (60 ml) freshly squeezed lemon juice, plus extra to taste
⅔ cup (150 ml) extra-virgin olive oil
2 tbsp (30 ml) red wine vinegar, plus extra to taste
2 tsp (10 ml) ground cumin, toasted
sea salt and freshly ground black pepper, to taste
Instructions
Place potatoes in a large, shallow pan that will accommodate them in a single, even layer. Add salt and 4 generous cups (just over 1 L) cold water. Bring water to a boil over medium-high heat and boil until water has evaporated and potatoes are fully cooked, about 12 to 15 minutes. Decrease heat to low and continue to cook for a few minutes, shaking pan until potatoes are dry and skins are covered with a thin crust of salt.
Meanwhile, make Soft Herb Salsa. In bowl of a food processor, combine jalapeño, garlic, cilantro, tarragon, parsley and anchovy, if using. Pulse until chopped, then add lemon juice, olive oil, vinegar, cumin and salt and pepper to taste, being aware that potatoes are already salted. Process until smooth and taste for seasoning, adding a little extra lemon juice or vinegar if needed. Transfer to a serving dish.
To serve, pile potatoes onto a serving platter and serve salsa on the side.
Drink Pairings