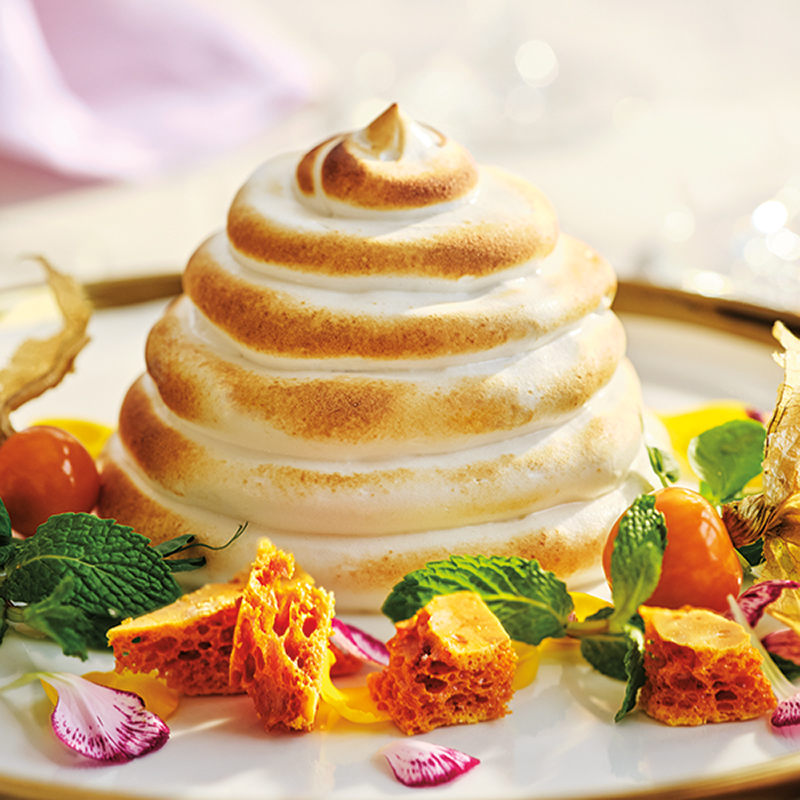 Salted Honeycomb & Smoked Almond Beehive Baked Alaska
Ingredients
Serves Makes about 6 Baked Alaskas
½ cup + ¼ cup (125 + 60 ml) granulated sugar, divided
¼ cup + ⅔ cups (60 + 150 ml) clover honey, divided
1½ tsp (7 ml) baking soda
1 tsp (5 ml) Maldon sea salt flakes
4 cups (1 L) good quality store-bought vanilla ice cream
½ cup (125 ml) smoked almonds, roughly chopped
1 store-bought pound cake, cut into ½-in (1 cm) thick slices
edible flowers, berries, herbs or pea shoots, for garnish
Instructions
To make salted honeycomb, line a rimmed baking sheet with parchment paper and set aside. In a medium, heavy-bottomed saucepan over medium-low heat, combine ½ cup (125 ml) sugar and ¼ cup (60 ml) honey. Let sugar dissolve while gently whisking constantly, about 5 minutes. Increase heat to medium and bring to a lazy simmer, whisking often, until mixture reaches 300 F (150 C) on an instant-read thermometer, about 3 to 5 minutes. Take care not to overcook, as honeycomb will taste burnt.
Remove saucepan from heat and immediately whisk in baking soda and salt. Be careful, as mixture will steam and turn into a thick foam. Pour this foamy mixture immediately onto prepared baking sheet. Let sit at room temperature until cool, about 1 hour. Use a sharp knife to chop honeycomb into no smaller than bite-sized chunks and shards. Transfer to an airtight container and set aside.
Place ice cream in a bowl and let soften slightly. Stir in smoked almonds and about half the chopped honeycomb until well combined. Transfer to freezer for 1 hour.
Meanwhile, cut 2.5-in (6 cm) rounds out of pound cake. You should get at least 6 rounds. Feel free to fit together a few pieces if needed. Transfer rounds to a parchment-lined baking sheet.
Dollop about ¾ cup (175 ml) ice cream onto each piece of pound cake and shape into a tall dome. Place ice cream-topped cakes in freezer until completely frozen, about 4 hours.
When ready to serve, make meringue. In a small saucepan, heat remaining ⅔ cup (150 ml) honey until it reaches 242 F (117 C) on an instant-read thermometer.
Meanwhile, whip egg whites in bowl of a stand mixer fitted with whisk attachment over medium-high speed, until it forms soft peaks. Add remaining ¼ cup (60 ml) sugar and continue to whisk until well incorporated, about 2 minutes. Reduce mixer speed to low and slowly pour in cooked honey in a very thin stream. Once it is all added, increase speed to medium-high and continue whisking until meringue is cooled, shiny and holds a peak, about 5 to 10 minutes. Place meringue in a large piping bag fitted with a plain round tip.
To serve, working with 1 ice cream-topped cake at a time, place cake on a serving plate. Pipe honey meringue around cake and ice cream, starting from the plate and working your way up in concentric circles. Alternatively, you can spread a thick layer of meringue all around the cake and ice cream. Caramelize meringue using a culinary torch. Garnish with extra salted honeycomb candy, edible flowers, berries, herbs and/or pea shoots. Repeat with remaining cakes and serve immediately.
Drink Pairings