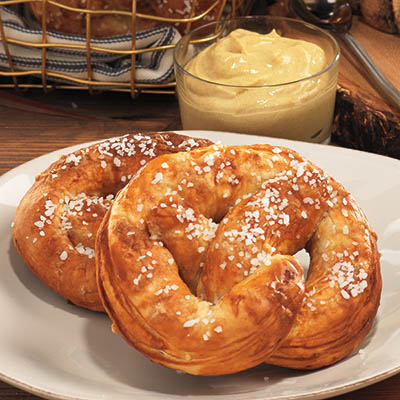 Ingredients
Serves 12 pretzels
4 tsp (20 ml) active dry yeast
1 tsp (5 ml) sugar + ½ cup (125 ml) sugar, divided
1¼ cup (310 ml) warm water
4 cups (1 L) all-purpose flour
½ cup (125 ml) baking soda
coarse kosher salt, for garnish
Instructions
Mix together yeast and 1 tsp (5 ml) sugar. Mix in warm water, stir and allow to stand until creamy, about 10 minutes.
In a large mixing bowl, mix flour, ½ cup (125 ml) sugar and salt. Make a well in centre and add vegetable oil and yeast mixture. Mix and form into a dough. Knead dough by hand or with electric mixer fitted with dough hook for 7 to 8 minutes or until smooth and elastic. Transfer to a lightly oiled bowl and cover with plastic wrap and a clean tea towel. Let rise until double in size, about 45 minutes to an hour.
Preheat oven to 400 F (200 C).
While dough is rising, prepare a water bath by mixing together hot water and baking soda. Stir often to mix.
After dough has risen, turn dough onto a lightly floured surface and divide into 12 equal pieces. Roll each piece into a long rope, about ½-in (1.25 cm) thick and twist into pretzel shape.
Dip individual pretzels into hot-water-soda solution, quickly lay on paper towel to remove any excess water, and place on lightly greased or parchment paper-lined baking sheet. Sprinkle lightly with kosher salt. Bake in oven for about 8 minutes or until golden brown.
Drink Pairings