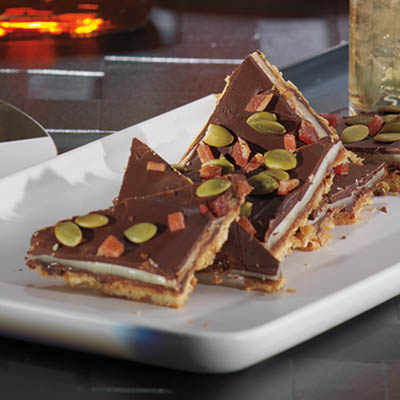 Ingredients
Serves 10 to 12
45 to 50 salted saltine crackers
1 cup + ¼ cup (310 ml) unsalted butter, divided
1 cup (250 ml) dark brown sugar
14 cups (3.5 L) mini marshmallows
1 tbsp (15 ml) Malden sea salt
3 cups (750 ml) dark chocolate chips, divided
5 strips crispy bacon, minced
¼ cup (60 ml) raw pumpkin seeds
Instructions
Preheat oven to 400 F (200 C). Line a jelly roll pan with aluminum foil, allowing at least ½-in (1 cm) of overhang on all sides. Grease aluminum foil with a good layer of melted butter before laying out crackers in a single layer. Break crackers as needed to fill entire bottom of pan.
In a medium-sized saucepan, stir together 1 cup (250 ml) butter and brown sugar over medium heat. Once butter has melted and mixture is well combined, allow to come to a boil. Let boil for 2 more minutes, stirring continuously. Then, immediately pour mixture over crackers and spread to cover in an even layer. Bake until very bubbly, about 5 to 8 minutes. Remove from oven and sprinkle with 1 cup (250 ml) chocolate chips. Melt chocolate chips for 4 minutes. Spreadover toffee surface in a thin layer. Set aside to cool to room temperature. Place in freezer for 30 minutes.
In a medium-sized saucepan, stir together remaining ¼ cup (60 ml) butter, marshmallows and bourbon over mediumlow heat until marshmallows are melted and mixture is smooth. Spread marshmallow sauce over frozen chocolate layer using a rubber spatula. Sprinkle with sea salt before chilling in freezer until marshmallow layer is firm, about 15 to 20 minutes.
Meanwhile, fill a medium-sized saucepan with 1½-in (3.5 cm) water and bring to a simmer over medium heat. Place remaining chocolate chips in a heatproof bowl and set over simmering water. Stir constantly until chocolate is melted and smooth. Working quickly, pour chocolate over marshmallow layer and spread into an even layer. Before chocolate sets, sprinkle with bacon bits and pumpkin seeds. Freeze bark until top chocolate layer is firm, about 10 to 15 minutes.
When ready to serve, remove bark from pan using foil overhang before carefully peeling foil away from hardened bark. Cut into pieces using a sharp knife. Serve while still chilled, as bark will become soft at room temperature. Bark may be refrigerated in an airtight container for up to 3 days.
Drink Pairings