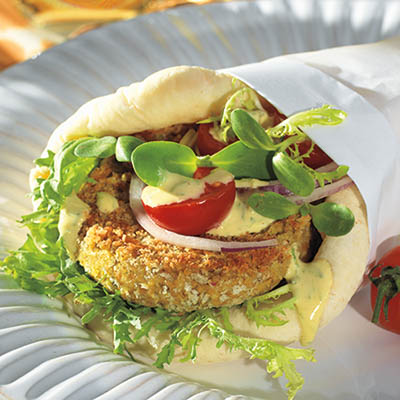 SAUCY CHICKPEA BURGERS IN FRESH PITAS
Ingredients
Serves 6
2 x 19 oz (540 ml) cans chickpeas, rinsed and drained
2 garlic cloves, smashed and minced
2 tsp (10 ml) hot curry powder
1 tsp (5 ml) each ground cumin and sea salt
¼ tsp (1 ml) ground turmeric
freshly ground black pepper, to taste
½ small yellow onion, finely chopped
2 tbsp (30 ml) minced fresh cilantro
½ cup (125 ml) Panko bread crumbs, divided
2 tbsp (30 ml) extra-virgin olive oil
frizzy endive leaves, tomatoes and sunflower
CREAMY LEMON TAHINI SAUCE:
1 large garlic clove, smashed and minced
2 tbsp (30 ml) fresh lemon juice
¼ cup (60 ml) Nutritional Yeast Seasoning
¼ cup (60 ml) extra-virgin olive oil
⅛ tsp (0.5 ml) cayenne pepper
¼ cup (60 ml) tahini paste
¼ cup (60 ml) chopped fresh chives
1 cup (250 ml) lukewarm water
2 tsp (10 ml) active dry yeast
½ tsp (2 ml) granulated sugar
2¼ cups (560 ml) unbleached all-purpose
flour, divided, plus extra for rolling
2 tbsp (30 ml) olive oil, plus extra for oiling bowl
Instructions
To make CHICKPEA BURGERS: In a food processor with a metal blade combine chickpeas, garlic, zest and seasonings. Pulse until chickpeas are finely chopped. Add onion, cilantro and half the bread crumbs. Continue to pulse just until mixture is like coarse cookie dough. Taste and add more seasonings as desired. Refrigerate for 1 hour for mixture to slightly firm. Place remaining bread crumbs in a shallow bowl. Shape chickpea mixture into 6 burgers about ¾-in (2 cm) thick and roll in bread crumbs. Place burgers on a plate in single layer. Cover tightly with plastic wrap and refrigerate. Can be refrigerated for several hours or frozen.
In a food processor with a metal blade, combine TAHINI SAUCE ingredients, except for chopped chives. Whirl until smooth and creamy. Add chives and pulse briefly to blend. Pour into tightly sealed container and refrigerate until ready to use. Can be refrigerated for a couple of days. Simply shake well before serving.
To make HOMEMADE PITA BREAD: In a large mixing bowl of an electric stand mixer, combine warm water, yeast and sugar. Stir to blend. Add ¼ cup (60 ml) all-purpose flour. Whisk together and place bowl, uncovered, in a warm, draft-free place until yeast has bloomed and is frothy, about 15 minutes.
Add salt, olive oil and 2 more cups (500 ml) all-purpose flour. With the flat beater from electric mixer, beat mixture on medium-high until blended. Add a little more flour if dough is too sticky. Remove beater and replace with dough hook. Continue to blend on low with dough hook for 2 minutes until smooth. Cover and rest mixture for 10 minutes. Then continue to knead with electric dough hook for 2 more minutes. Shape dough into a ball and place in a clean, lightly oiled bowl. Cover with plastic wrap and a kitchen cloth. Place in a warm, draft-free place for 1 hour or until dough has doubled in size.
When ready to bake, preheat oven to 475 F (245 C). Place a heavy-duty baking sheet in oven on bottom rack.
To make pita, punch dough down and divide into 6 equal-sized balls. Place on a tray, cover with a damp cloth, and leave at room temperature for 10 minutes. Keeping balls covered, remove 1 ball of dough at a time and press into a disk. On a lightly floured surface, roll disk out to an 8-in (20 cm) circle. Round will shrink slightly during baking. Carefully transfer round of dough to hot baking sheet in oven. Bake for 2 minutes. Dough will puff up. Using tongs, gently flip and bake 1 more minute. It should be pale and slightly speckled. Transfer to a clean, dry kitchen cloth and cover with kitchen cloth. Repeat process with remaining balls of dough. Best served same day.
Heat a little olive oil in a large, nonstick frying pan. Add 2 chickpea burgers and fry for 5 to 7 minutes per side, until patties are golden and piping hot, adding more oil if necessary. Keep warm on a plate in oven while frying remaining burgers.
To serve, line pitas with frizzy lettuce. Place chickpea burger on top. Garnish with cherry tomatoes, halved, sunflower sprouts and a drizzle of Creamy Lemon Tahini Sauce.
Drink Pairings