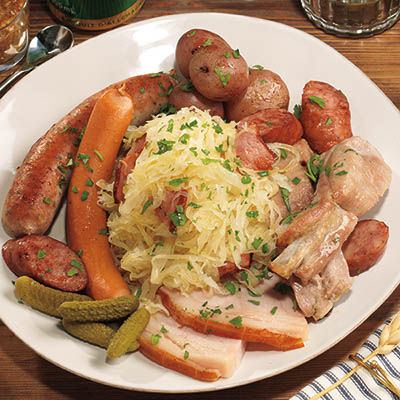 Ingredients
Serves 8
⅓ cup (75 ml) kosher salt, plus more for seasoning
2 tbsp (30 ml) light brown sugar
3 lbs (1.5 kg) pork back or baby back ribs, cut into 4 sections
8 cups (2 L) of sauerkraut, drained
½ lb (250 g) of ½-in (1.25 cm) thick-sliced bacon, cut into 1-in (2.5 cm) pieces
8 fully cooked bratwurst sausages
¼ cup (60 ml) duck fat or peanut oil
1 large onion, coarsely chopped
6 garlic cloves, peeled, coarsely chopped
½ tsp (2 ml) caraway seeds
1 tsp (5 ml) freshly ground pepper
3 cups (750 ml) chicken stock
1½ cups (375 ml) Riesling wine
2 lbs (1 kg) kielbasa sausage, skinned and cut on bias into 1-in (2.5 cm) pieces
8 skinless European wieners
1 x 2 lbs (1 kg) boiled boneless ham, 3 to 4-in thick (8 to 10 cm), sliced ¼-in (0.5 cm) thick
2 lbs (1 kg) small red-skinned potatoes assorted mustards, horseradish and pickles, for serving
chopped parsley, for garnish
Instructions
In a large, heavy resealable plastic freezer bag, mix salt with sugar. Add ribs and shake to coat. Seal bag and refrigerate overnight or up to 24 hours.
The next day, preheat oven to 300 F (150 C). Rinse sauerkraut in cold water and squeeze dry. Set aside.
Set a large roasting pan over two burners on stove over high heat. Add bacon and bratwurst. Sauté until bacon is crisp and bratwurst is brown, about 10 minutes. Remove and set aside.
Add duck fat and melt. Add onions and garlic and reduce heat to medium-low and cook, stirring, about 7 minutes or until softened. Add and mix in sauerkraut, juniper berries, cloves, allspice, bay leaves, caraway seeds, pepper, stock and white wine. Bring to a boil over high heat.
Rinse ribs under cold water and pat dry. Bury ribs in sauerkraut and return to a boil over medium-high heat. Cover tightly with foil and transfer to oven and bake for 1½ hours.
Remove ribs from sauerkraut and cut between bones. Return ribs to sauerkraut and bury along with kielbasa sausage, wieners, bratwurst, bacon and ham slices. Cover and bake until meats are hot, about 25 to 30 minutes. While baking, cook potatoes in salted water, bringing to a boil over high heat, until fork-tender. Drain and cover to keep warm.
To serve, place some ribs and sausage on plate and mound hot sauerkraut in a modest pile on top in middle of a serving plate. Arrange around with wieners, ham and boiled potatoes. Garnish with chopped parsley and serve with mustard and pickles.
Drink Pairings