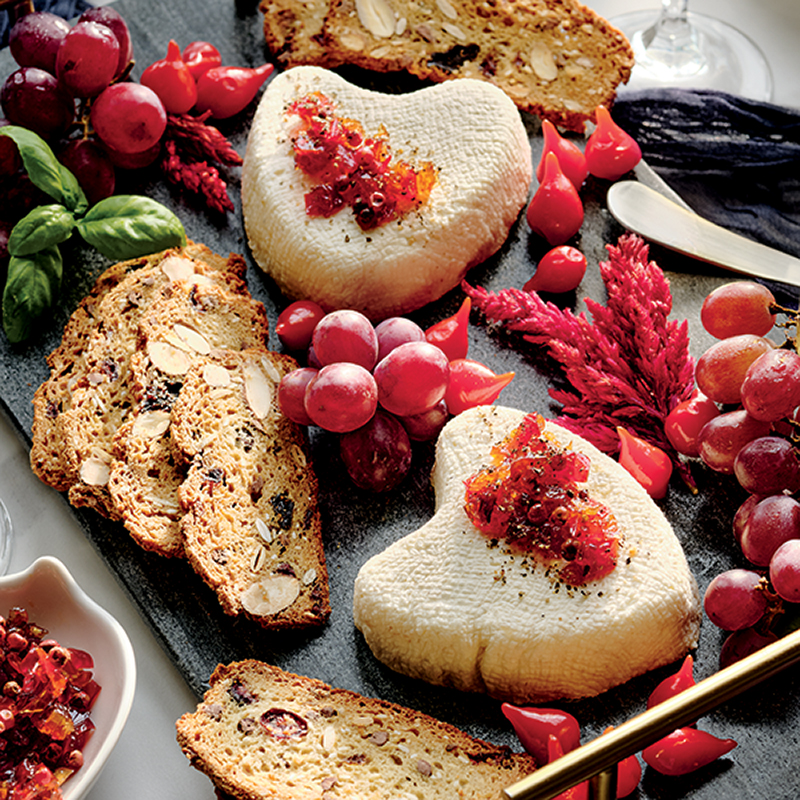 Savoury Coeur a la creme served with Red Pepper Relish
Ingredients
Serves 4-6
1 tbsp (15 ml) grapeseed oil
⅓ cup (75 ml) minced shallots
1 large garlic clove, minced
6 oz (170 g) cream cheese, room temperature
½ cup (125 ml) whipping cream
1 tbsp (15 ml) white wine or lemon juice
1 tsp (5 ml) kosher salt, divided
⅛ tsp (0.5 ml) ground black pepper
2 red bell peppers, seeded and finely chopped
1 small white onion, finely chopped
1 cup (250 ml) granulated sugar
1 cup (250 ml) apple cider vinegar
1 tsp (5 ml) crushed pink peppercorns
assorted crackers and fruit, to serve
Instructions
Line 4 small coeur à la crème moulds each with a double layer of cheesecloth large enough to leave a 2-in (5 cm) overhang once cheesecloth has been placed in mould. Place moulds on plate or small rimmed baking sheet and set aside. Alternatively, line a 6-in (15 cm) fine mesh sieve with at least a double layer of cheesecloth large enough to extend beyond rim of sieve by at least 2-in (5 cm). Set sieve in a bowl and set aside.
In a small frying pan, warm oil over medium heat. Add shallot and sauté until soft and translucent, about 5 minutes. Add garlic and sauté for 1 minute more. Transfer mixture to a bowl and set aside to cool.
Place cream cheese in bowl of a stand mixer fitted with whisk attachment. Whip on medium speed until thick and fluffy, about 3 minutes. Reduce mixer speed to low and slowly pour in whipping cream, mixing until cream is fully incorporated. Add wine or lemon juice, cooled shallot mixture, ½ tsp (2.5 ml) salt and pepper. Increase mixer speed to medium-high and whip until mixture is thick, creamy and fully incorporated, about 1 minute
Spoon cream cheese mixture into prepared moulds or sieve and smooth top(s) with a spatula. Fold cheesecloth overhang over top of cream cheese mixture. Cover with plastic wrap and place in refrigerator for at least 12 hours and up to 24 hours.
Meanwhile, make Red Pepper Relish. In a medium saucepan over medium heat, stir together red pepper, onion, sugar, vinegar and remaining ½ tsp (2.5 ml) salt. Bring to a simmer, stirring constantly, then reduce heat to medium-low. Cook, stirring occasionally, until most of the liquid has evaporated and consistency resembles a sticky jam, about 20 to 30 minutes. Remove from heat, stir in pink peppercorns and let cool to room temperature. If making ahead, transfer to an airtight container; it will keep, refrigerated, for up to 2 weeks.
When ready to serve, generously spread relish in a circle a little bigger than your Coeur à la crème onto serving plates or a platter. Peel back cheesecloth and invert Coeur à la crème onto relish. Garnish with additional relish, if desired, and serve with a selection of crackers and fruit.
Drink Pairings