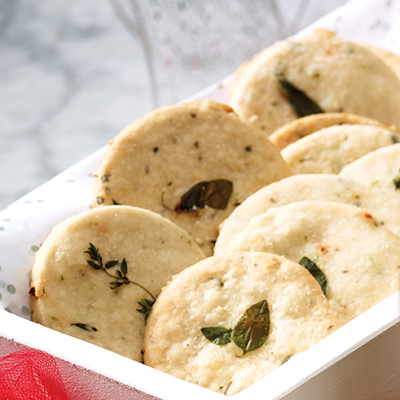 Ingredients
Serves 8 to 10
2½ cups (625 ml) grated white cheddar
1 tbsp (15 ml) finely chopped fresh rosemary
4 tbsp (60 ml) fresh thyme leaves, de-stemmed
¾ tsp (4 ml) black pepper
1 tsp (5 ml) red pepper flakes
1 cup (250 ml) salted butter, softened
Instructions
Preheat oven to 350 F (180 C).
In a food processor, add all ingredients except for butter and garnish. Mix on low just to combine. Add butter in pieces and pulse until all flour is absorbed and mixture sticks together when pinched. If still a bit dry, add ½ tsp (2.5 ml) water at a time until texture is achieved.
Empty dough onto plastic wrap. Press together to form a disc and wrap. Refrigerate for 30 minutes.
Remove from refrigerator and unwrap. Place disc between 2 sheets of parchment paper. Using a rolling pin, gently roll dough to about ½-in (1.25 cm) thickness. Cut desired shapes (smaller work better) and bake for 10 to 15 minutes or until edges are slightly golden.
Drink Pairings