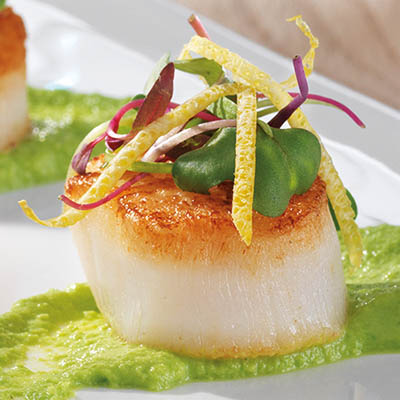 Ingredients
Serves 4
20 large scallops, heels removed
salt and freshly ground pepper, to taste
1 cup (250 ml) micro greens, for garnish
¼ cup (60 ml) minced shallots
4 cups (1 L) sweet green peas, fresh or frozen and thawed
½ cup (125 ml) whipping cream
salt and freshly ground black pepper, to taste
1 tbsp (15 ml) fresh lemon juice
1 tbsp (15 ml) dry white vermouth or white wine
12 tbsp (180 ml) cold unsalted butter
salt and freshly ground white pepper, to taste
Instructions
To make SCALLOPS: Preheat oven to 200 F (100 C). Pat scallops dry with paper towel. Season both sides with salt and pepper. In a heavy-bottomed frying pan over medium- high, heat butter and olive oil. Working in batches, add scallops and sear until golden, about 2 to 3 minutes on 1 side and then 30 seconds on the other side. Transfer scallops to a platter and keep warm in the oven.
To make PEA PURÉE: Melt butter in a frying pan. Sauté shallots in butter for a couple of minutes or until translucent. Add peas and cream, and simmer for about 3 minutes. Pour into a blender and purée until smooth. Press through a fine- meshed sieve for a smoother consistency. Return to saucepan and season generously with salt and pepper to taste. Cover and keep warm until ready to serve.
To make BEURRE BLANC (if using): In a small, heavy, non-reactive saucepan over medium-low heat, combine lemon juice, vermouth and shallot. Bring to a low boil and cook until liquid is reduced to about 1 tsp (5 ml). Remove pan from heat and whisk in 1 tbsp (15 ml) butter, then a second tablespoon (15 ml). Return pan to burner set over very low heat and whisk in remaining butter, 1 tbsp (15 ml) at a time. Remove from heat and whisk in salt and pepper to taste.
To serve, take 1 tbsp (15 ml) Pea Purée and drop a dollop on 1 side of serving plate. Then quickly smear it with the back of a spoon into the shape of a comma. Repeat in 4 more spots. Arrange a scallop on large end of each dollop, drizzle with Beurre Blanc (if using) and garnish with chopped chives and pea shoots. Repeat with remaining 3 serving plates. Garnish with micro greens and serve.
Drink Pairings