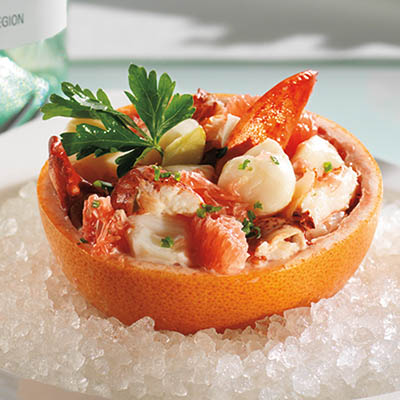 SEAFOOD AND RUBY RED GRAPEFRUIT SALAD
Ingredients
Serves 4
1 cup (250 ml) good-quality mayonnaise
2 tbsp (30 ml) capers, chopped
2 tbsp (30 ml) chopped cornichons or sour gherkins
1 tbsp (15 ml) finely chopped fresh chives
1 tbsp (15 ml) finely chopped fresh parsley
salt and freshly ground black pepper, to taste
2 x1 lb (500 g) lobsters, cooked
4 oz (125 g) sea scallops, hinge muscle removed
4 oz (125 g) spot prawns, tail-on, peeled and deveined
pinch of fresh chopped chives
2 large, ruby red grapefruits
1 tsp (5 ml) Ponzu Sauce, optional
salt and freshly ground black pepper, to taste
Instructions
To make DRESSING: In a small bowl combine mayonnaise, capers, cornichons or sour gherkins and herbs. Stir to blend. Add salt and pepper, to taste. Cover and refrigerate until ready to use.
Remove meat from lobsters reserving claw meat for garnish. Cut meat into bite-sized pieces and refrigerate.
In a bowl mix scallops, prawns, lemon juice, oil, salt and chives. Marinate at room temperature for about 15 minutes.
Cut 2 grapefruits in half and remove the flesh. Reserve the 4 empty halves for serving. Remove the white pith from grapefruit segments then cut flesh into small pieces. Segment remaining grapefruit and reserve.
In a large bowl combine marinated scallops and prawns, lobster meat, grapefruit pieces and dressing. Add cognac and Ponzu Sauce, if using. Taste and season with salt and pepper as needed.
Fill emptied grapefruit halves with seafood mixture and place on a plate or a bowl filled with crushed ice. Garnish with a few reserved grapefruit segments and lobster claws. Sprinkle with fresh herbs and serve.
Drink Pairings