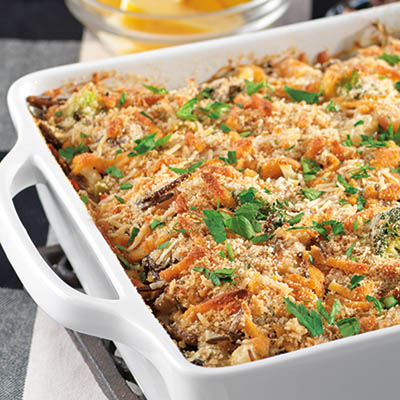 SEAFOOD AND WILD RICE CASSEROLE
Ingredients
Serves 6 to 8
3 cups (750 ml) water or chicken stock
1 lb (500 g) raw medium prawns, peeled, deveined, cut into ½-in (1.25 cm) pieces
1 lb (500 g) bay scallops
1 medium onion, finely chopped
2 celery ribs, finely diced
½ cup (125 ml) finely diced green pepper
½ cup (125 ml) finely diced red pepper
½ lb (250 g) button mushrooms, sliced
1 cup (250 ml) mayonnaise
½ tsp (2 ml) freshly ground pepper
2 tsp (10 ml) Worcestershire sauce
2 cups (500 ml) grated sharp cheddar, divided
½ lb (250 g) broccoli, cut into small florets, blanched in boiling water, then ice water bathed and drained
1 lb (500 g) fresh crabmeat (if frozen, drain well)
½ cup (125 ml) grated Parmesan
½ cup (125 ml) dry bread crumbs
Instructions
Bring water or chicken stock to a boil. Stir in wild rice, reduce heat and simmer, covered, for 30 to 45 minutes, or just until kernels puff open. Uncover and fluff with a fork and simmer an additional 5 minutes. Drain off any excess liquid.
Bring a large stockpot of salted water to a boil over high heat. Add prawns and bay scallops, blanch for 1 minute, drain and rinse in ice water bath. Drain well and set aside.
Preheat oven to 375 F (190 C).
Heat olive oil and butter in a large skillet over medium heat. Add onion, celery, green and red peppers and mushrooms, and sauté until soft. Remove from heat and allow to cool. Transfer to a large mixing bowl, mix in milk, mayonnaise, pepper, cayenne, Worcestershire sauce and 1½ cups (375 ml) cheese.
Mix in cooked wild rice, broccoli, prawns, scallops and crabmeat. Transfer to a greased 13 x 9-in (3.5 L) baking dish. Mix together remaining cheddar cheese with the Parmesan and dry breadcrumbs. Sprinkle over top of casserole. Bake, uncovered, until bubbly, 40 to 50 minutes.
Drink Pairings