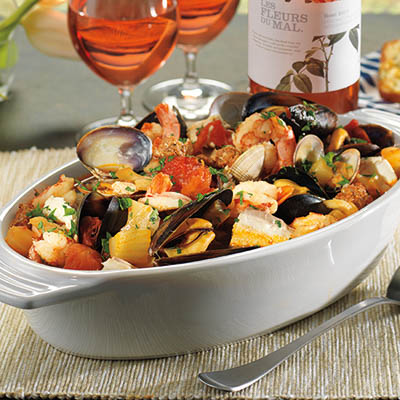 SEAFOOD CIOPPINO WITH BRAISED FENNEL
Ingredients
Serves 4
½ lb (250 g) fresh chorizo sausage, casings removed
1 large fennel bulb, coarsely diced, about 2 cups (500 ml)
1 medium onion, coarsely chopped
4 garlic cloves, coarsely chopped
½ tsp (2 ml) dried chili flakes
2 tbsp (30 ml) tomato paste
1 cup (250 ml) dry white wine
4 cups (1 L) chicken stock (or fish stock)
1 x 28 oz (796 ml) can plum tomatoes and juice, coarsely chopped
1 tbsp (15 ml) fish sauce (add if not using fish stock)
½ lb (250 g) firm white fish, like halibut or snapper
1 lb (500 g) mussels, rinsed and debearded if necessary
1 lb clams (500 g), rinsed
1 lb (500 g) large prawns, peeled and deveined
freshly ground black pepper, to taste
⅓ cup (75 ml) coarsely chopped flat-leaf parsley, for garnish
salt and freshly ground black pepper, to taste
Instructions
Heat olive oil in a large heavy-bottomed casserole or Dutch oven over medium-high heat. Add chorizo and brown, breaking up sausage. Once browned, pour off excess fat. Add fennel and sauté, stirring occasionally, for about 3 minutes. Add onion, reduce heat to medium and sauté until both are tender, about 5 to 8 minutes. Add garlic and chili flakes and sauté 2 minutes, stirring until garlic starts to become golden.
Add tomato paste and mix well. Turn heat to high, stirring constantly, until paste starts to darken, about 3 minutes more.
Stir in white wine and cook until almost evaporated. Add stock, tomatoes and fish sauce, if using. Reduce heat and bring to a simmer.
Add fish, simmer a few minutes, then add remaining seafood. Cook until shells have opened and prawns are cooked through.
To serve, season to taste, squeeze lemon, and garnish with chopped parsley.
Drink Pairings