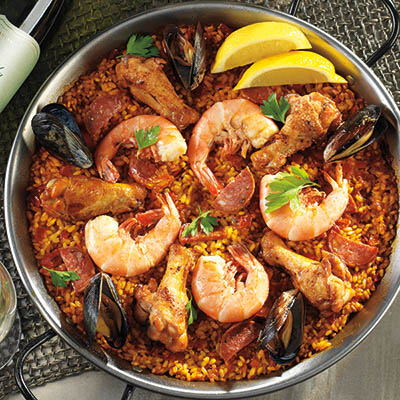 Ingredients
Serves 4
¼ cup (60 ml) extra-virgin olive oil
2 oz (60 g) chorizo sausage, cut into rounds
1 red pepper, finely diced
1 large tomato, finely diced
2 tsp (10 ml) kosher salt
1 cup (250 ml) paella rice (Bomba)
1 tsp (5 ml) Spanish paprika, hot or sweet
2 cups (500 ml) chicken stock
Instructions
Heat oil in a 15-in (38 cm) paella pan over medium heat. Add chorizo and fry until browned, remove and set aside.
Sear chicken on all sides until golden brown, about 15 to 20 minutes. Remove and set aside.
Add onion, garlic, and red peppers to pan and cook over low heat until soft and slightly caramelized, about 20 minutes, stirring occasionally. Add tomatoes and salt and continue to cook until all liquid has evaporated.
Add rice and paprika and cook, stirring until rice has been coated in oil. Add stock, saffron and stir. Season to taste. Lay chicken wings and chorizo on top of rice. Turn heat up to high and bring to a boil. Once it boils, turn heat down to medium, liquid should simmer. Continue cooking until rice has absorbed liquid so that liquid just reaches top of rice. Add prawns and clams on rice and continue cooking until all liquid has been absorbed by rice and prawns and clams are cooked (prawns will be pink and clams will have opened). If rice, prawns, and clams are not cooked by the time the liquid has cooked down, cover pan with foil and let sit until everything has been cooked. Serve immediately with lemon wedges.
Drink Pairings