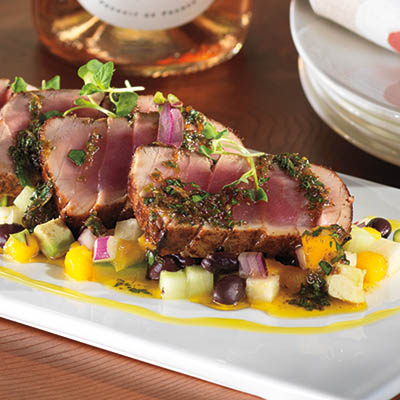 SEARED CITRUS PEPPERED TUNA WITH LEMON-PEPPER OIL
Ingredients
Serves 4
2 tsp (5 ml) black peppercorns
1 cup (250 ml) grape seed oil
2 tbsp (30 ml) Tamari soy sauce
2 tbsp (30 ml) Lemon-Pepper Oil
½ tsp (1 ml) ground cumin
¼ tsp (1 ml) ground cinnamon
freshly ground black pepper
6 oz (180 g) ahi tuna, sushi grade
1 cup (250 ml) jicama, peeled and finely diced
1 cup (250 ml) mango, peeled, pitted and finely diced
1 medium-sized avocado, peeled pitted and finely diced
¼ cup (60 ml) red onion, finely diced
½ cup (125 ml) English cucumber, unpeeled and finely diced
1 cup (250 ml) black beans, rinsed and drained
1 cup (250 ml) mixed micro greens
⅓ cup (75 ml) Lemon-Pepper Oil
1 tbsp (15 ml) finely grated lime zest
2 tbsp (30 ml) fresh lime juice
½ tsp (2 ml) ground cumin
2 tbsp (30 ml) Thai basil, chopped
2 tbsp (30 ml) fresh mint, chopped
Instructions
For LEMON-PEPPER OIL: In a saucepan, combine lemon zest and peppercorns with grape seed oil. Bring to a boil, then reduce heat to low and simmer for 5 minutes for flavours to blend.
Remove from heat and add thyme sprigs. Cool to room temperature. Transfer to a small bottle. Seal and store at room temperature.
To make TUNA MARINADE: In a small bowl whisk together Tamari, Lemon- Pepper Oil, lime juice and seasonings. Transfer to a larger, shallow bowl and add tuna loin. Roll tuna in marinade to coat. Cover with wrap and marinate at room temperature for 20 minutes.
To cook, heat a heavy frying pan until very hot. Spray with oil. Discard tuna marinade. Add tuna to hot pan and sear for 15 to 20 seconds per side just until outside is lightly cooked. You want it pink in centre. Remove to a plate and let rest a couple minutes before cutting into ¼-in (0.25 cm) slices. Tuna can be seared and left whole and refrigerated up to 5 hours before serving.
Make CHOPPED SALAD: Combine all diced fruits and vegetables except for micro greens in a bowl. Gently toss together. Scatter onto a long ceramic serving platter. Slice tuna and arrange over top.
In a bowl, whisk all SALAD DRESSING ingredients, except for honey. Add honey to taste. Drizzle over top and scatter with micro greens. Serve cold.
Drink Pairings