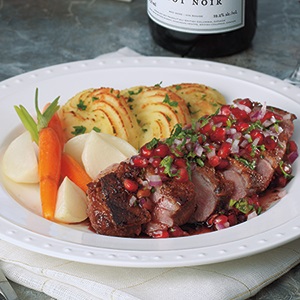 SEARED DUCK BREAST WITH SPICED POMEGRANATE SAUCE AND RELISH
Ingredients
Serves 4
½ small red onion, finely chopped
1½ cups (375 ml) pomegranate seeds
¼ cup (60 ml) extra-virgin olive oil
1½ tsp (7 ml) freshly grated lime zest
1 tbsp (15 ml) fresh lime juice
1 tbsp (15 ml) sherry or red wine vinegar
½ cup (125 ml) coarsely chopped fresh mint
½ cup (125 ml) coarsely chopped fresh cilantro
salt and freshly ground b lack pepper
2 tbsp (30 ml) granulated sugar
1 cup (250 ml) fresh pomegranate juice
1 cup (250 ml) chicken stock
1 tsp (5 ml) adobo sauce, from canned chipotle chilies (optional)
1 tsp (5 ml) balsamic vinegar
kosher salt and freshly ground black pepper
4 x 6 oz (180 g) boneless duck breasts
Instructions
To make Pomegranate Relish, in a small bowl, mix together all ingredients. Stir to blend. Season with salt and pepper, to taste. Cover and chill for up to 1 hour before serving.
To make Duck with sauce, in a heavybottomed, medium saucepan, mix together sugar and water over medium heat, stirring until sugar dissolves. Increase heat and swirl saucepan until mixture caramelizes to a deep amber colour. Carefully add pomegranate juice, chicken stock, cinnamon stick, cloves, cumin, adobo sauce (if using) and balsamic. Boil until sauce is reduced to about 1 cup (250 ml), about 20 to 25 minutes. Remove cinnamon stick and cloves. Season with salt and pepper. Cover and set aside until ready to use. Rewarm over low heat before serving.
Preheat oven to 400 F (200 C).
Score skin of duck without cutting into flesh, with 4 to 5 cuts on the bias in 1 direction and repeating in opposite direction, making a diamond pattern. Season both sides of breasts with salt and black pepper.
Heat 2 large ovenproof frying pans over medium-high heat. When hot, add 2 duck breasts skin-side down to each pan. Cook until duck skin is crisp and deep brown, about 7 to 8 minutes. Turn each breast over and cook another minute. Pour off excess fat (reserving for another use). Transfer pans to oven and roast until cooked medium-rare, about 5 minutes.
Transfer to cutting board and allow to rest, 5 minutes. Thinly slice crosswise on slight diagonal and arrange on plates. Spoon sauce over top and garnish with Pomegranate Relish.
Drink Pairings