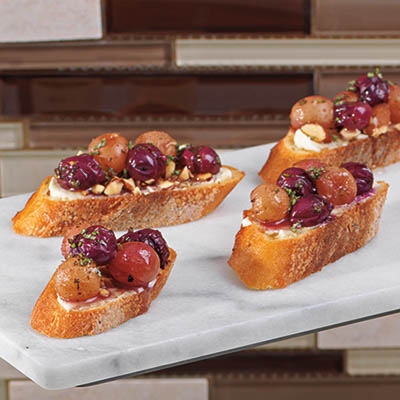 SEARED GRAPE AND MASCARPONE CROSTINIS
Ingredients
Serves about 18 crostinis
½ tsp (2 ml) finely chopped fresh rosemary
3 cups (750 ml) small seedless grapes, assorted colours
2 tbsp (30 ml) aged balsamic vinegar
1 tsp (5 ml) finely minced fresh rosemary
salt and freshly ground black pepper
¾ cup (175 ml) mascarpone cheese
½ cup (125 ml) very finely chopped natural almonds, toasted
¼ cup (50 ml) liquid honey
Instructions
To make CROSTINIS: Preheat oven to 375 F (190 C). Thinly slice baguette into ⅓-in (1 cm) slices and place in a single layer on a baking sheet. Combine olive oil, rosemary, salt and pepper. Stir to blend.
Brush mixture over baguette slices. Place in oven and bake for 10 to 12 minutes or until crostinis are crusty but not too crisp. Remove pan from oven and set aside. Can be made ahead and stored in a tightly covered container at room temperature overnight.
To make GRAPE TOPPING: Place grapes in a large bowl. Drizzle with balsamic, oil and seasonings. Gently toss to coat. Spread out on baking sheet and bake in 375 F (190 C) oven for 12 minutes or until grapes are almost ready to pop their skins. Remove baking sheet to a rack. Set aside.
When ready to serve, spread a little mascarpone cheese on each crostini. Spoon roasted grapes onto each slice and sprinkle with toasted almonds. Drizzle with honey and serve.
Drink Pairings