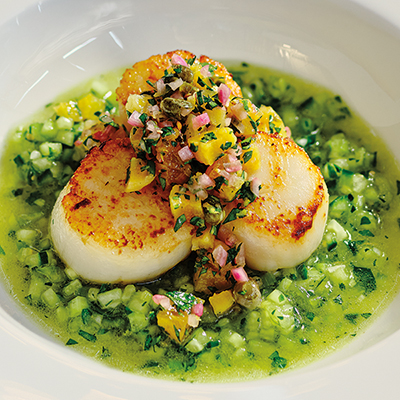 SEARED SCALLOPS WITH GREEN GAZPACHO AND APRICOT CAPER SALSA
Ingredients
Serves 4
1 small shallot, finely chopped
1 tbsp (15 ml) roughly chopped and drained capers
3 tbsp (45 ml) finely chopped fresh flat-leaf parsley leaves, divided
½ tsp (2.5 ml) lemon zest
¼ tsp (1 ml) kosher salt, plus extra to taste
3 fresh or canned medium tomatillos, finely diced
2 green onions, light green and white part only, finely diced
3 tbsp (45 ml) extra-virgin olive oil
2 tbsp (30 ml) lime juice
freshly ground black pepper, to taste
1 tbsp (15 ml) grapeseed oil
12 large scallops, cleaned and patted dry with paper towel
Instructions
To make Apricot Caper Salsa, in a medium bowl, stir together apricots, shallot, capers, 1 tbsp (15 ml) parsley, lemon zest and juice and ¼ tsp (1 ml) salt. Set aside.
To make Green Gazpacho, cut cucumber lengthwise into long matchstick strips, leaving skin on, then finely dice. Transfer to a bowl along with tomatillos, green onion, garlic, remaining 2 tbsp (30 ml) parsley, olive oil and lime juice. Stir together to combine. Season to taste with salt and black pepper. Set aside.
In a large frying pan, heat grapeseed oil over medium-high heat until very hot. Season scallops all over with a sprinkle of salt and pepper, then add to pan. Sear on both sides until a golden crust forms and they just lose their translucent colour, about 30 seconds per side.
To plate, divide gazpacho between serving bowls, topping each with 3 warm scallops and a spoonful of Apricot Caper Salsa. Serve immediately.
Drink Pairings