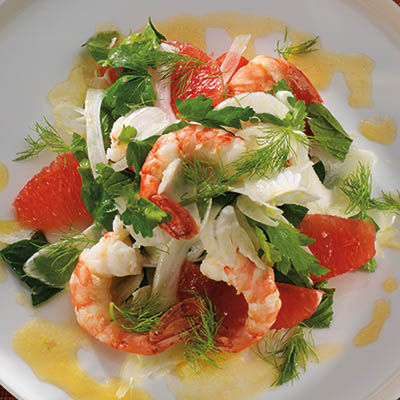 SEARED SPOT PRAWNS WITH SHAVED FENNEL AND GRAPEFRUIT SALAD
Ingredients
Serves 4
1 to 2 large ruby grapefruits
1 tsp (5 ml) Dijon mustard
1 tbsp (15 ml) liquid honey
¼ cup (60 ml) extra-virgin olive oil
1 large or 2 small fresh fennel bulbs, trimmed, halved vertically, sliced paper thin
1 cup (250 ml) fresh flat-leaf parsley
1 shallot, coarsely chopped
16 to 20 large fresh spot prawns, headed and peeled, dried well
3 oz (90 g) goat's cheese, (optional)
Instructions
Cut off top and bottom ends of grapefruit. Stand on 1 flat side. Starting at top of fruit, cut off all peel and white pith, following curve of fruit. Working over bowl, cut between membranes, releasing segments and squeezing any juice into bowl. Transfer segments to another bowl.
In bowl, whisk the reserved grapefruit juice, lemon juice, mustard, honey and ¼ cup (60 ml) extra-virgin olive oil. Set aside.
Combine fennel and herbs in large bowl. Cut grapefruit segments into halves if too large and add to bowl with fennel. Gently toss to mix well. Arrange salad on serving dishes.
Heat a medium-sized frying pan over medium-high heat. When hot, add 1 tbsp (15 ml) olive oil and butter. When it starts to smoke, add shallot and prawns. Sauté until prawns are opaque and pink. Divide and arrange on salad. Drizzle with grapefruit juice dressing, garnish with goat's cheese, if using, and serve immediately.
Drink Pairings