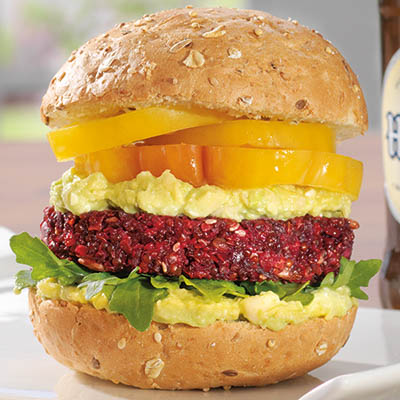 SEEDED BEET BURGER WITH WHITE BEAN AVOCADO SMASH
Ingredients
Serves 4
2 cups (500 ml) peeled and cubed red beets
1 cup (250 ml) cooked red quinoa
½ medium yellow onion, diced
¼ cup (60 ml) plain instant oats
2 tbsp (30 ml) sunflower seeds
1 tbsp (15 ml) flax seeds
1 tbsp (15 ml) toasted sesame seeds
1 tsp (5 ml) melted coconut oil
2 tsp (10 ml) lemon juice
1 pinch red pepper chili flakes
½ tsp (2 ml) ground cumin
4 wholegrain burger rolls, halved
2 cups (500 ml) baby arugula, for garnish, divided
2 or 3 heirloom tomatoes, sliced, for garnish, divided
WHITE BEAN AVOCADO SMASH:
1 cup (250 ml) cooked white kidney beans
2 tbsp (30 ml) lemon juice
Instructions
Preheat oven to 350 F (180 C). Toss together cubed beets with oil then place on a rimmed baking sheet. Bake in oven until easily pierced with a knife, about 40 to 50 minutes. Set aside to cool slightly, keep oven on.
Transfer beets to a food processor fitted with steel blade attachment and pulse a couple of times to achieve a chunky beet paste. Transfer beet mixture to a large bowl, then add quinoa, egg, onion, garlic, oats, sunflower seeds, flax seeds, sesame seeds, coconut oil, lemon juice, chili flakes, cumin and salt. Stir to combine. If texture is too soft, add additional oats until desired consistency is achieved.
With slightly dampened hands, shape mixture into 4 patties and place on a parchment-lined baking sheet. Bake in oven for 15 minutes before flipping patties over and baking a further 15 minutes.
Lightly spread White Bean Avocado Smash on cut side of each bottom bun. Top with arugula, warm beet burger patty, a large dollop more of White Bean Avocado Smash and a few slices of tomato before capping it all off with top bun. Serve immediately.
To make WHITE BEAN AVOCADO SMASH: In a medium bowl, place all ingredients and mash together with a fork until well combined, yet still chunky. Makes about 2 cups (500 ml).
Drink Pairings