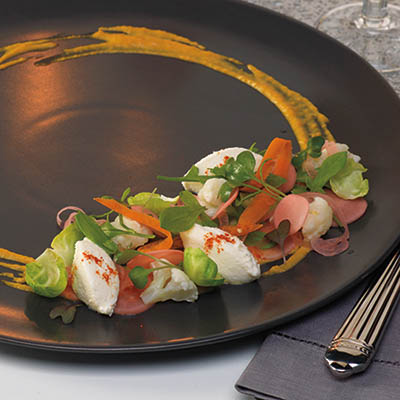 Ingredients
Serves Serves 4
1 bunch red radishes, trimmed and thinly sliced
1 small yellow onion, thinly sliced
½ cup (125 ml) each distilled vinegar and water
1 tbsp (15 ml) pure maple syrup
1 tsp (5 ml) fennel seeds
1 large shallot, peeled and minced
⅓ cup (75 ml) orange juice
1 cup (250 ml) unseasoned pumpkin purée
¼ tsp (1 ml) Chinese 5 Spice
¼ cup (50 ml) whipping cream
1 cup (250 ml) small cauliflower florets
6 Brussels sprouts, trimmed and separated into individual leaves
100 g pkg goat's cheese, shaped into quenelles
½ cup (125 ml) fresh sheep's sorrel*
Instructions
To make PICKLED RADISHES: Arrange radishes and onion in alternate layers in a 4-cup (1 L) Mason jar. In a small saucepan, combine vinegar, maple syrup and fennel seeds. Bring to a boil and stir to blend. Pour hot mixture over radishes and onions, press down to fully immerse slices in liquid. Set aside, uncovered, and allow to reach room temperature before tightly sealing and refrigerating. Can be served immediately or refrigerated for several weeks.
To make PUMPKIN PURÉE: Heat oil in small frying pan. Add shallot and garlic, sauté until soft. Add juice to deglaze pan. Stir in pumpkin purée, Chinese 5 Spice and cream. Whisk over medium-low heat until mixture is thick enough to hold its shape. Transfer to a squeeze bottle and set aside.
To make SALAD TOPPERS: Bring water to a boil. Place cauliflower florets in a sieve and plunge into boiling water for 30 seconds. Remove and place in a bowl of ice water. Strain well, transfer onto a paper towel-lined plate. Repeat process with Brussels sprout leaves. Shave peeled carrot into thin, julienne strips.
In a small bowl, stir goat's cheese vigorously with a fork until softened and creamy. Take 2 small teaspoons and dip both into warm water. Shake off excess water and, with one spoon, take a scoop of creamy cheese and pass mixture repeatedly between spoons, smoothing each side until a neat quenelle is formed. Place on a chilled plate and refrigerate until ready to serve. Salad ingredients can be refrigerated for up to 1 day until ready to serve.
To serve, pipe a circle of Pumpkin Purée onto inside rim of plate. With back of a spoon, smear purée in a whirl around rim of plate. On ⅓ of plate, assemble a collage of cauliflower florets, sprout leaves and twisted curls of carrots strips on purée. Place drained pickled radish into vegetables along with a few sorrel leaves and goat's cheese quenelles. Dot quenelles with a pinch of cayenne. Serve salad immediately.
*Sheep's sorrel is available in specialty and natural food stores. It is also found growing wild in most vegetable gardens all season long where climates are moderate. Alternatively, use micro-greens if not available.
Drink Pairings