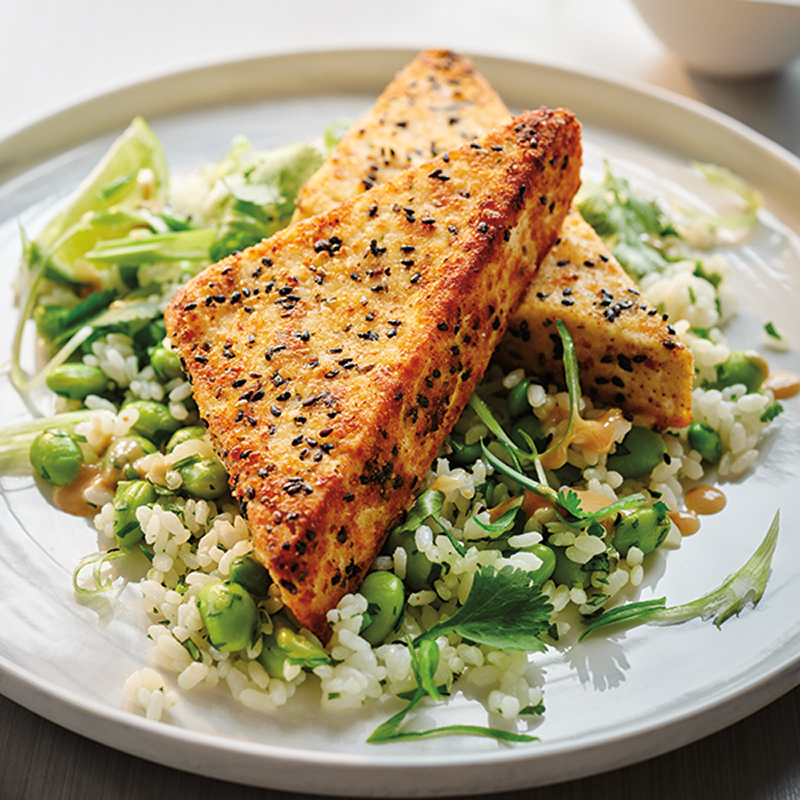 Ingredients
Serves 2
½ tbsp (7.5 ml) minced ginger
¼ cup (60 ml) tahini paste
1 x 450 g package firm tofu
½ cup (125 ml) breadcrumbs
2 tbsp (30 ml) sesame seeds
salt and pepper, to taste
2 tbsp (30 ml) grapeseed oil
1 cup (250 ml), frozen, shelled edamame, thawed
2 cups (500 ml) sushi rice, cooked
½ cup (125 ml) chopped cilantro leaves, plus extra for garnish
1 lime, cut into wedges, for garnish
Instructions
In a medium-sized bowl, combine ginger, garlic, soy, honey, tahini, sesame oil and water. Add extra water as needed to thin sauce. Set aside.
Cut tofu block in half lengthwise, then diagonally to form 4 triangles. Do not dry off tofu. Season with salt and pepper.
On a flat plate, add breadcrumbs, sesame seeds and flour. Lightly mix with a fork. Press tofu gently into flour mixture, coating all sides.
In a cast iron skillet, heat oil over medium heat. Cook tofu on all sides until crispy and golden brown, about 12 to 15 minutes total.
In a separate bowl, mix edamame, rice and cilantro. Season to taste with salt and pepper.
Serve tofu on top of rice. Garnish with sesame sauce, cilantro and lime wedges.
Drink Pairings