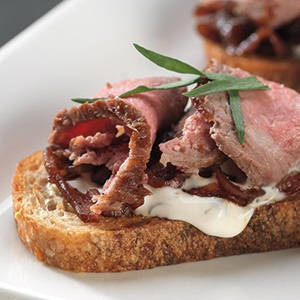 SHAVED BEEF CROSTINIS WITH CARAMELIZED ONION AND HORSERADISH
Ingredients
Serves 16
1 sourdough or whole grain baguette, cut into 16 x ¼-in (0.5 cm) slices
3 tbsp (45 ml) olive oil, plus extra if needed
salt and freshly ground black pepper
2 large red onions, peeled, halved and thinly sliced
1 large garlic clove, smashed and minced
1 tbsp (15 ml) brown sugar, plus extra if needed
2 tbsp (30 ml) balsamic vinegar
½ cup (125 ml) crème fraîche
2 tbsp (30 ml) creamed horseradish
2 tsp (10 ml) minced fresh tarragon
½ tsp (2 ml) Dijon mustard
2 lbs (1 kg) centre-cut piece of beef tenderloin, well trimmed
3 tbsp (45 ml) olive oil, divided
salt and freshly ground black pepper
16 pieces of fresh tarragon, for garnish
Instructions
For Crostinis, preheat oven to 350 F (180 C). Arrange baguette slices on baking sheet in a single layer. Brush lightly with olive oil and season with salt and pepper. Bake until crisp and golden on both sides, about 15 minutes. Remove, cool to room temperature and store in airtight container until ready to use. Store up to 5 days.
To make Caramelized Red Onions, heat oil in a large, heavy-bottomed frying pan over medium heat. Add onions and garlic and sauté, stirring often, until they begin to soften, about 5 minutes. Add sugar and vinegar and continue to sauté, stirring occasionally, until lightly golden and caramelized, about 25 to 35 minutes. Remove to a small bowl and cool. Cover and refrigerate until ready to use. Refrigerate for up to a week.
To make Horseradish Cream, in a bowl, combine all ingredients. Whisk together until smooth and creamy. Transfer to a squeeze tube with a large nib and refrigerate until ready to use. Use within a couple of days.
Remove Beef Tenderloin from refrigerator and rest at room temperature. Place oven rack in centre of oven and preheat oven to 425 F (220 C). Rub beef with 1 tbsp (15 ml) oil and generously season with salt and freshly ground black pepper. Heat 2 tbsp (30 ml) olive oil in a large, ovenproof frying pan until it almost begins to smoke. Carefully place beef in pan and sear about 3 to 4 minutes per side.
Transfer frying pan with beef to oven and roast, turning beef occasionally with tongs, until an instant-read thermometer inserted into centre of beef registers 125 F (52 C), for very rare to rare, about 20 minutes. For medium rare, roast until beef reads 130 F (54 C), about 5 minutes longer. Remove from oven, place beef on a board and cool to room temperature. Tightly wrap beef with plastic wrap and refrigerate until chilled, at least 4 hours or overnight.
To serve, take beef from refrigerator and remove wrap. Place beef on a cutting board and shave crosswise into very thin ⅛-in (0.25 cm) slices. Arrange crostini on a serving tray. Top each with a generous dollop of Horseradish Cream, then Caramelized Red Onions. Place a couple pieces of beef on top of each and garnish with fresh tarragon.
Drink Pairings