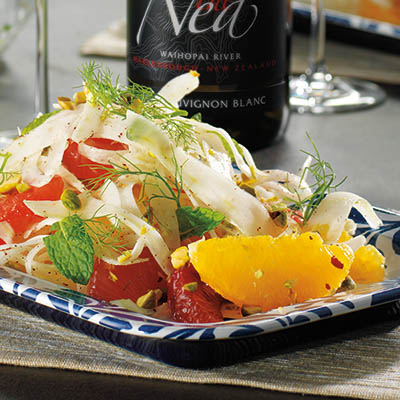 SHAVED SPRING FENNEL SALAD
Ingredients
Serves 4
3 tbsp (45 ml) extra-virgin olive oil
2 tbsp (30 ml) sherry vinegar
2 fennel bulbs, halved, cored and thinly sliced on a mandolin, and soaked in ice water
2 tbsp (30 ml) fennel fronds, coarsely chopped
3 tbsp (45 ml) finely sliced mint leaves
¼ cup (60 ml) coarsely chopped roasted pistachios
Instructions
With a sharp knife, cut skin and white pith from grapefruits and oranges. Working over a bowl, cut between membranes to release the sections into the bowl. Squeeze membranes to extract the juice.
In a small bowl, whisk together honey, sherry vinegar, coriander and sumac. Add 3 tbsp (45 ml) citrus juice and season. Reserve remaining citrus juice for another use.
Remove shaved fennel from ice water and drain well. In a shallow serving bowl, toss fennel and citrus with vinaigrette. Garnish with chopped fennel fronds, mint leaves and chopped pistachios. Serve immediately.
Drink Pairings