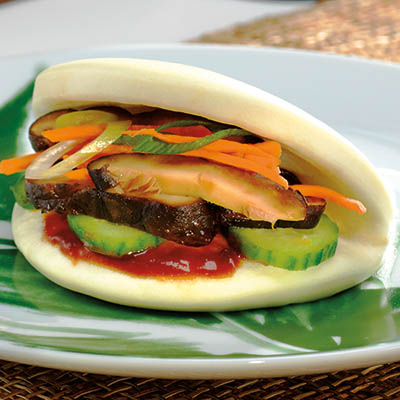 Ingredients
Serves 12 bao buns
¼ cup (60 ml) soy sauce or tamari
1 tbsp (15 ml) vegetable oil
1 tbsp (15 ml) rice wine vinegar
1 Thai bird's eye chili, to taste
2 ginger slices, ¼-in (0.5 cm) each
1 tbsp (15 ml) brown sugar
1 cup (250 ml) shiitake mushrooms, stems removed
12 frozen bao buns (Available at Asian markets in the frozen section. They may be called Chinese/ Taiwanese Hamburger Buns.)
¼ cup (60 ml) hoisin sauce
2 stalks green onions, thinly sliced
Instructions
In a pot, add all ingredients up to (but not including) mushrooms and bring to a boil. Cover and simmer for 10 minutes. Let cool.
Add mushrooms to liquid and let sit overnight in refrigerator.
When ready to serve, grill mushrooms over a preheated grill or barbecue over medium heat, until warmed through and lightly browned. Option to keep mushrooms whole or sliced.
Steam buns in a bamboo steamer for 5 to 8 minutes, or until soft. Spread 1 tsp (5 ml) of hoisin on each bun. Divide mushrooms evenly between each bun and garnish with cucumbers and green onions.
Drink Pairings