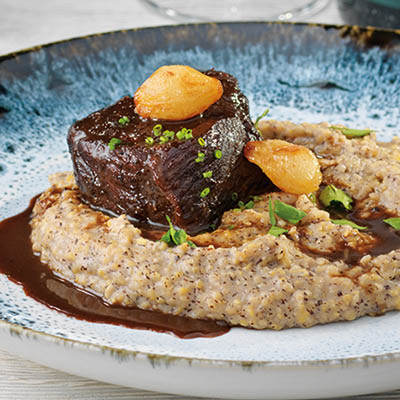 SHORT RIBS WITH BUCKWHEAT POLENTA
Ingredients
Serves 4
2 lbs (1 kg) boneless beef short ribs, cut into 2-in (5 cm) square pieces, dried well
¼ tsp (1 ml) freshly ground pepper
1 tbsp (15 ml) grapeseed oil
1 large onion, peeled and chopped
2 medium carrots, peeled and chopped
2 garlic cloves, peeled and crushed
2 tbsp (30 ml) tomato paste
1 tbsp (15 ml) all-purpose flour
4 cups (1 L) homemade beef stock (or, if you cannot make a beef stock, chicken or vegetable stock can be used)
1 tsp (5 ml) balsamic vinegar
4 cups (1 L) chicken or vegetable stock
¼ tsp (1 ml) freshly ground pepper
¼ cup (60 ml) buckwheat flour
½ cup (125 ml) fontina cheese, shredded
Instructions
Season beef with salt and pepper. In a large heavy-bottomed pot or Dutch oven, heat oil over medium-high heat. Brown beef in batches until golden brown on all sides, about 2 minutes per side. Remove and set aside.
In same pot used to brown beef, add onion, carrots, celery and garlic. Cook vegetables until they are soft and onions are translucent. Add tomato paste and flour, stir and cook until tomato paste has caramelized slightly. Add red wine, prepared beef, stock, thyme and parsley. Cover and simmer over low heat for 3 to 4 hours, or until beef is tender. Alternatively, if your pot is ovensafe, you can cook it in a 300 F (150 C) oven for 3 to 4 hours.
Once beef is cooked, remove it from pot and set aside. Strain cooking liquid and discard vegetables. Return liquid into pot and reduce over medium-high heat until it is sauce consistency and coats the back of a spoon.
Add balsamic vinegar and butter to sauce. Stir until combined. Return beef to pot and reduce heat to low. Baste beef with sauce, turning beef over so that it is coated with sauce (about 10 minutes). Serve over Buckwheat Polenta.
To make BUCKWHEAT POLENTA: In a medium-sized saucepan, bring stock to a boil with salt and pepper. Slowly pour polenta into water, whisking constantly, until all polenta has been added. Add buckwheat flour the same way.
Reduce heat to low and continue whisking until polenta has thickened and is not settling at bottom. Continue to cook for 20 more minutes, stirring occasionally with a rubber spatula. Add butter and cheese and stir until cheese has melted and combined into polenta. Adjust seasoning, to taste.
Drink Pairings