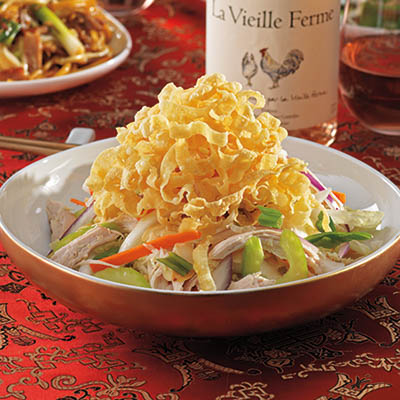 SHREDDED POACHED CHICKEN AND SESAME SALAD
Ingredients
Serves 4 to 6
CHINESE-STYLE POACHED CHICKEN BREASTS:
2 green onions, trimmed and halved
1 whole large chicken breast, bone-in about 1 lb (.5 kg)
3 tbsp (45 ml) olive or grape seed oil
3 tbsp (45 ml) seasoned rice vinegar
2 tsp (10 ml) light soy sauce
2 tbsp (30 ml) toasted sesame seeds, lightly crushed
½ tsp (2 ml) freshly ground white pepper
12 to 16 square wonton skins, sliced into ½-in (1.25 cm) strips
½ cup (125 ml) canola oil, for frying
6 cups (1.5 L) shredded Chinese (Napa)
cabbage, coarsely shredded, rinsed in ice-cold water and well drained and dried
2 stalks celery, finely sliced
1 medium carrot, peeled and finely julienned
3 green onions, finely sliced
½ small red onion, finely julienned
¼ cup (60 ml) sliced almonds, lightly toasted
1 heaping tbsp (15 ml) toasted sesame seeds
Instructions
To make CHINESE-STYLE POACHED CHICKEN BREASTS: In a large stockpot, combine water, green onions, ginger, salt and sugar and bring to a boil.
Place the chicken breast in pot, breast side up, and cover. Return to a boil, then lower heat and simmer for 5 minutes. Turn off heat. Allow chicken to rest in the stockpot, covered, for another 15 minutes.
Remove chicken breast from stockpot and drain well. Reserve chicken stock for another use. Allow to cool down enough to handle. Remove skin and pull meat into bite-sized pieces from the bone. Cover and refrigerate until ready to use, discarding skin and bones.
To make SESAME DRESSING: Whisk together ingredients in a small bowl until sugar dissolves.
To make CHICKEN SESAME SALAD: Heat oil in a skillet over medium-high heat. When oil starts to shimmer, fry wonton skins in batches of 5 to 7 strips for 30 seconds each side or until lightly browned, working quickly to avoid burning. Remove from oil and drain on a paper towel-lined baking sheet until cooled. Set aside.
In a bowl, toss together the salad ingredients and the shredded chicken with sesame dressing until well mixed. Add wonton skins and gently toss. Serve immediately.
Drink Pairings