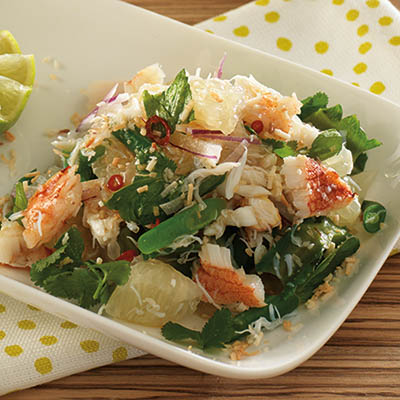 SHREDDED POMELO SALAD WITH CRAB AND MINT
Ingredients
Serves 4
2 cups (500 ml) thinly sliced shallots (about 4 large shallots)
2 cups (500 ml) canola oil
3 tbsp (45 ml) fresh lime juice
3 tbsp (45 ml) fish sauce
1 tbsp (15 ml) canola or reserved shallot oil
1 tbsp (15 ml) light brown sugar
¼ tsp (1 ml) finely minced Thai red chili
½ lb (250 g) long beans, French beans or Asian wing beans, cut into ½-in (1.25 cm), blanched, chilled in ice bath and well drained
½ small red onion, finely julienned
½ cup (125 ml) toasted, shredded, unsweetened coconut
½ lb (250 g) fresh, cooked Dungeness crab or fresh shrimp
1 handful spearmint, coarsely chopped
¼ cup (60 ml) coarsely chopped cilantro
Instructions
To make FRIED SHALLOTS: Heat oil in a medium-sized, heavy saucepan over medium-high heat to 275 F (140 C) on a deep-fry thermometer. Add sliced shallots and fry, stirring until light golden brown, about 8 minutes. Transfer with a slotted spoon to a paper towel-lined baking sheet to drain.
Place a fine-meshed sieve over a heatproof bowl. Increase oil to high, 350 F (180 C). Add pre-fried shallots and fry just until crispy and well browned, about 1 to 2 minutes. Watch carefully so they don't burn.
Immediately pour oil and shallots through fine-meshed sieve, reserving shallot-flavoured oil. Transfer shallots onto a paper towellined baking sheet to drain and cool. Reserve shallot-infused oil for the vinaigrette or for another use. Shallots will keep in an airtight container for 1 day, but are best freshly made. The oil can be kept in a covered jar and refrigerated for up to a month.
To make VINAIGRETTE: In a bowl whisk together lime juice, fish sauce, canola oil, brown sugar, minced chili and salt until sugar is dissolved. Set aside.
Take 1 pomelo and, using a sharp knife, cut off both ends of fruit so it will stand upright on a cutting board. Stand pomelo on cutting board and slice downward following the curve of the fruit, cutting away the thick peel and pith to reveal the flesh. Then, holding fruit in one hand, cut along both sides of each segment to remove from the membrane. Remove fruit, gently pull apart into fibres and place in a large mixing bowl. Repeat with remaining pomelo.
Place remaining Salad ingredients along with pomelo in a bowl. Drizzle with vinaigrette and toss well to combine. Transfer to serving dish and garnish with fried shallots.
Drink Pairings