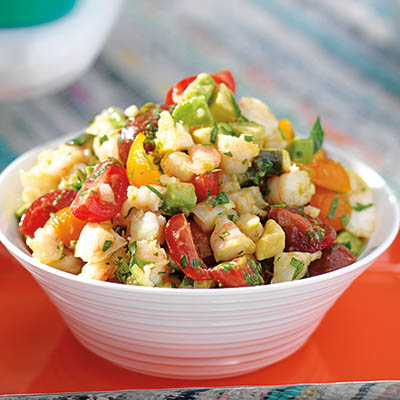 Ingredients
Serves 4 cups (1 L)
1 poblano pepper, stem removed
1 lb (500 ml) raw shrimp, peeled and deveined
salt and pepper, to taste
1 tbsp (15 ml) grapeseed oil, divided
2 avocados, pitted, peeled and diced
2 cups (500 ml) multi-coloured grape tomatoes, quartered
¼ cup (60 ml) finely diced vidalia onion
2 tbsp (30 ml) finely chopped flat leaf parsley
2 tbsp (30 ml) finely chopped cilantro
Instructions
Preheat broiler and set oven rack about 6-in (15 cm) from top of oven.
Place poblano on an aluminum foil lined baking sheet and broil, turning occasionally, until blackened and blistered on all sides. Remove from oven and set aside until cool enough to handle. Peel off skin, slice pepper open to remove seeds and dice. Place in a large bowl and set aside.
Season shrimp lightly with salt and pepper. Set aside.
In a large frying pan, over mediumhigh heat, heat half the oil. Add half the shrimp and sauté until cooked through, about 4 minutes total. Transfer to a cutting board, coarsely chop and place in bowl with poblano. Repeat with remaining oil and shrimp.
Fold remaining ingredients into shrimp mixture. Season with additional salt, if desired, and serve. Salsa may be made and refrigerated for up to 6 hours before serving. Best enjoyed the same day it is made.
Delicious used as a base in a taco or on top of a grilled steak for a new take on surf and turf.
Drink Pairings