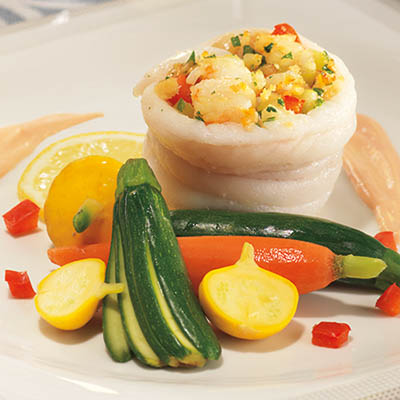 SHRIMP-STUFFED FILLET OF SOLE
Ingredients
Serves 4
1 lb (500 g) unpeeled raw shrimp, size 21/25
2 tbsp (30 ml) unsalted butter
½ cup (125 ml) minced yellow onion
¼ cup (60 ml) minced celery
¼ cup (60 ml) minced red bell pepper
1 tbsp (15 ml) minced garlic
1 tsp (5 ml) cayenne pepper
2 tbsp (30 ml) finely chopped flat leaf parsley, plus extra for garnish
¼ cup (60 ml) fine dry bread crumbs
4 x ¼ lb (125 g) sole fillets
salt and freshly ground black pepper, to taste
3 tbsp (45 ml) minced shallots
1 tbsp (15 ml) minced garlic
¼ cup (60 ml) dry white wine
1 cup (250 ml) chicken stock
1 cup (250 ml) whipping cream
2 tsp (10 ml) Worcestershire sauce
¼ cup (60 ml) cold, unsalted butter
Instructions
Position rack in middle position and preheat oven to 350 F (180 C). Line shallow baking dish with parchment paper, just large enough to hold 4 rolled sole fillets. Set aside.
Peel shrimp and reserve shells for sauce. Roughly chop shrimp and set aside.
In a medium-sized frying pan, melt butter over medium-high heat. Add olive oil, when hot add onion, celery and bell pepper. Cook, stirring until softened, 2 to 3 minutes. Add shrimp, garlic, cayenne pepper and salt and cook, stirring, for 1 minute. Remove from heat and add parsley. Set aside until cooled, then add bread crumbs and stir to combine.
Season fish with salt and black pepper. Divide shrimp stuffing evenly among centre of fillets and roll over stuffing so it is enclosed. Top with half the lemon slices. Place side by side in baking dish and bake until fish is just cooked through and lightly golden on top, 25 to 30 minutes.
While fish is cooking, prepare SAUCE: Melt butter in medium-sized saucepan over medium-high heat. Add reserved shrimp shells and cook, stirring frequently, until shells are lightly golden, 4 to 6 minutes. Add shallots and garlic and cook, stirring for 1 minute. Add white wine and cook until almost evaporated, 1 minute. Add stock, cream, Worcestershire sauce and bay leaf and reduce heat to medium-low. Cook, stirring occasionally until liquid is reduced enough to coat the back of a spoon, about 8 minutes. Strain sauce through a finemeshed sieve, pressing on shells to release as much liquid as possible. Return sauce to saucepan, taste and adjust seasonings as preferred and keep warm until serving.
When fish is ready, remove from oven and transfer to serving plates. Remove sauce from heat, whisk in cold, unsalted butter and chili sauce and spoon sauce over fish. Garnish with fresh parsley and remaining lemon slices and serve.
Drink Pairings