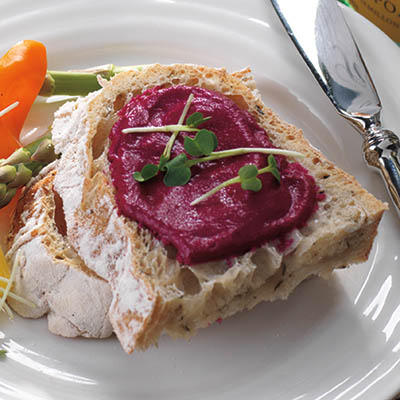 SIMPLE SOURDOUGH AND ROASTED BEETROOT HUMMUS
Ingredients
Serves 4 to 6
3 cups (750 ml) all-purpose or bread flour, plus extra
2 tsp (10 ml) kosher salt
2 tsp (10 ml) dried thyme
½ tsp (2 ml) active dry yeast
1½ cups (375 ml) water, at room temperature
6 medium-sized beets, trimmed
1 red chili pepper, seeded and chopped
½ cup (125 ml) plain Greek yogurt
3 tbsp (45 ml) extra-virgin olive oil
1 tbsp (15 ml) pure maple syrup
1 tbsp (15 ml) za'atar seasoning
salt and freshly ground black pepper, to taste
2 tbsp (30 ml) chopped walnuts, toasted
assorted vegetables for dipping
Instructions
To make SOURDOUGH BREAD: In a very large bowl, combine flour, salt, thyme and yeast. Stir in water until blended. Mixture will be very sticky. Grease or spray a piece of plastic wrap with oil and place oil-side down over bowl. Set aside on kitchen counter to rest for 10 hours or overnight until it's tripled in bulk.
Lightly dust counter with some extra flour. Turn dough out onto floured surface and gently form into a ball. Dough will be quite loose and shaggy. Place dough in the centre of a smooth dish towel dusted generously with flour. Set aside to slightly rise for 1½ hours.
An hour before baking bread, preheat oven to 425 F (220 C). Using a 10-in (25 cm) round cast iron frying pan with a lid or Dutch oven, place in oven without lid to preheat for at least 40 minutes.
When dough has rested for 1½ hours, gently tip into dry, preheated cast iron pan or Dutch oven. Lightly dust inside of lid with flour and place over top of dough in pan to tightly seal. Bake for 30 minutes, remove lid and bake for another 15 to 20 more minutes until crust is nice and golden and sounds hollow when tapped. Remove pan from oven and immediately transfer loaf to a wire rack to cool. Cut into thick slices or cubes.
To make BEETROOT HUMMUS: Preheat oven to 350 F (180 C). Place beets in a small roasting pan just large enough to hold them. Slice a thin layer from top of garlic to expose the cloves. Tuck in middle of the beets. Add ¼ cup (60 ml) water. Cover pan tightly. Bake for 1 hour or until beets are very tender
Remove and set aside until cool enough to handle. Peel and dice beets. Place in a high-speed blender along with remaining ingredients except for goat's cheese and green onions. Pulse contents to blend. Then whirl at high speed, scraping down the sides of the bowl occasionally, until mixture is very smooth and silky. Transfer to a covered container until ready to serve. Can be refrigerated for a couple of days.
To make GARNISHES FOR HUMMUS: To serve, sprinkle hummus with goat's cheese, walnuts and green onions. Serve with chunks of sourdough bread and assorted vegetables for dipping.
Drink Pairings