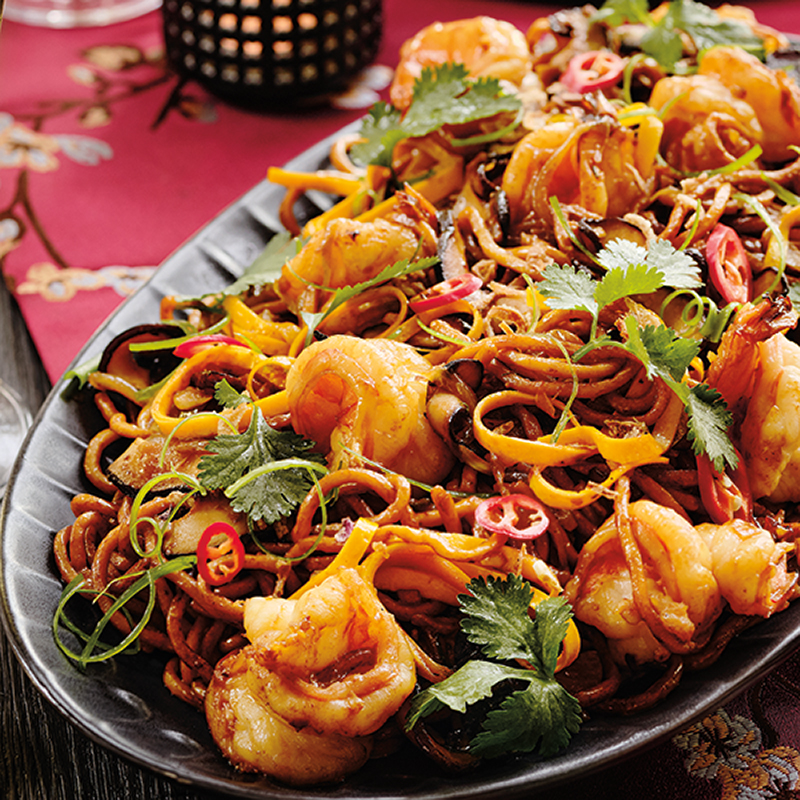 SINGAPORE NOODLES WITH PRAWNS SERVED WITH SAMBAL BELACAN
A multicultural potluck to celebrate Lunar New Year.
Ingredients
Serves 4 to 8
1 lb (500 g) large prawns, peeled, deveined and butterflied
½ tsp (2.5 ml) salt, plus more to taste
1 tbsp + 1 tsp (15 ml + 5 ml) sugar, divided
1 lb (500 g) steamed egg noodles
4 tbsp (60 ml) vegetable oil, divided
2 garlic cloves, smashed and roughly chopped
1-in (2.5 cm) knob ginger, peeled and julienned
4 shiitake mushrooms, stems removed and thinly sliced
3 tbsp (45 ml) oyster sauce
2 tbsp (30 ml) light soy sauce
1 tbsp (15 ml) dark soy sauce
1 to 2 red chilis, for garnish
2 handfuls cilantro leaves
6 green onions, julienned
Sambal Belacan* to serve - Recipe starts below. Makes ¼ cup (60 ml)
1 tbsp (15 ml) vegetable oil
3 tbsp (45 ml) belacan* shrimp paste
2 to 3 bird's eye chilis, to taste
Instructions
Run prawns under cold water for 5 minutes, then drain and pat dry. Mix with cornstarch, ½ tsp (2.5 ml) salt and 1 tsp (5 ml) sugar, then set aside.
Blanch noodles in boiling water just until they separate, 10 to 20 seconds. Drain well and set aside.
In a 8-in (20 cm) non-stick frying pan, heat 1 tsp (5 ml) oil over medium-low heat. Pour half the egg yolks in pan and spread them to cover bottom like a crêpe. Cook until set and repeat with another 1 tsp (5 ml) of oil and remaining half of yolks. Let cool, then cut into 1-in (2.5 cm) strips and set aside.
Mix together oyster, soy and fish sauces with sugar and set aside.
In a wok, heat 2 tbsp (30 ml) oil over high heat. Add garlic, ginger and mushrooms and stir-fry for 1 minute. Add prawns in a single layer and cook, undisturbed, for 1 minute. Toss prawns and cook for 2 minutes. Remove prawns and mushrooms from wok and set aside.
Add remaining oil to wok and stir-fry noodles until they are heated through. Add prawns, mushrooms, egg strips and sauce. Toss until thoroughly mixed.
Transfer to a serving platter, garnish with chilis, cilantro and green onions. Serve with limes and Sambal Belacan on the side.
Instructions for making the Sambal Belacan: In a small pan, heat oil over medium heat. Add shrimp paste and fry until fragrant, about 1 to 2 minutes. Remove from heat and let cool. In a mortar and pestle, pound shrimp paste and remaining ingredients until smooth. Alternately, blend them in a small food processor.
*Available in specialty Asian markets.
Drink Pairings