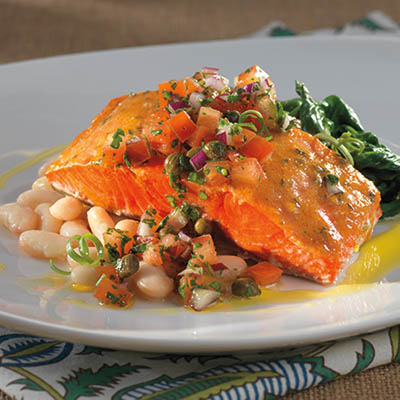 SLOW-BAKED SALMON WITH SPINACH FLORENTINE AND TOMATO SALSA
Ingredients
Serves 4
TOMATO, LEMON AND CAPER SALSA:
3 large, firm, ripe tomatoes
¼ cup (60 ml) finely minced cilantro
2 tbsp (30 ml) finely minced red onion
2 tbsp (30 ml) extra-virgin olive oil
2 tsp (10 ml) capers, rinsed and drained
freshly ground black pepper, to taste
4 x 6 oz (140 g) salmon fillets, skin on, about 1-in (2.5 cm) thick
1 tbsp (15 ml) Shiro Miso
2 tsp (10 ml) fresh lemon juice
½ tsp (2 ml) chopped fresh thyme leaves
1 cup (250 ml) cannellini beans, drained and warmed
LIGHT SPINACH FLORENTINE:
1½ lbs (750 g) baby spinach, rinsed and drained
½ tsp (2 ml) freshly ground black pepper
2 to 3 tbsp (30 to 45 ml) whipping cream
Instructions
To make SALSA: Finely chop tomatoes and drain briefly in a colander. Should measure about 1½ cups (375 ml). Place in bowl and add remaining ingredients. Gently fold together until evenly distributed. Cover and refrigerate until ready to serve.
To bake SALMON: Preheat oven to 275 F (140 C). Line baking sheet with parchment paper.
In a bowl, combine Shiro Miso, olive oil, lemon juice and thyme to blend. Brush over salmon fillets. Place salmon on prepared baking sheet and bake in preheated oven for 15 to 18 minutes or until almost opaque in centre.
Five minutes before salmon is baked, heat cannellini beans and keep warm.
Prepare LIGHT SPINACH FLORENTINE: Heat olive oil in large, heavy saucepan. Add garlic and sauté over medium heat for about 1 minute. Do not brown.
Add spinach, salt and pepper then toss with garlic and oil. Cover and cook for 2 minutes. Remove lid and turn heat to high. Cook for 1 more minute to fully wilt spinach. Drain and stir in cream and lemon zest.
To serve, divide Florentine among serving plates and scatter each with cannellini beans.
Top with a portion of salmon fillet and spoon Tomato, Lemon and Caper Salsa over top. Garnish with green onion.
Drink Pairings