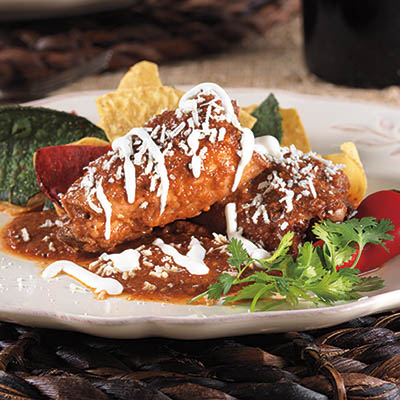 Ingredients
Serves 6 to 8
2 dried ancho chili or chipotle peppers
2 dried pasilla negro chili peppers
2 large dried mulato chili peppers
8 chicken thighs, skinned, bone-in
3 tomatillos, husks removed, halved
2 whole plum tomatoes, halved
½ firm large plantain or banana, peeled, thickly sliced
1 yellow onion, peeled and chopped
⅓ cup (75 ml) whole blanched almonds
¼ cup (60 ml) golden seedless raisins
¼ cup (60 ml) unsalted peanuts, toasted
1 tsp (5 ml) sea salt, plus extra to taste
½ tsp (2 ml) each of allspice berries, coriander seeds, sesame seeds, crushed anise seeds, dried oregano and thyme
¼ tsp (1 ml) black peppercorns
3 cups (750 ml) chicken stock
1 to 2 oz (30 to 60 g) bittersweet chocolate
2 tsp (10 ml) brown sugar
Mexican crema or crème fraîche
Instructions
Place all dried chilies left whole into 6 qt (6 L) slow cooker. Place chicken thighs on top, arranging and tucking into a single layer. Add tomatillos, tomatoes, plantain or banana slices, onion, almonds, raisins, peanuts, cinnamon stick, salt, garlic, allspice berries, coriander seeds, sesame seeds, anise, oregano, thyme, peppercorns and cloves.
In a saucepan, heat chicken stock to boiling and pour over chicken. Cover slow cooker and cook on high for about 4 hours.
Remove cooked chicken thighs to a heated platter. Cover to keep warm. Using a slotted spoon, scoop remaining slow cooker ingredients into a blender and purée until smooth. Add a little juice from slow cooker if necessary.
Place a food mill over a large saucepan. Pour puréed mixture into food mill and whirl to strain blended sauce into pan. Add a little more water if thinner sauce desired.
Stir grated chocolate into sauce in pan and add sugar to taste. Heat through. Sauce should be very smooth. Spoon mole sauce over chicken. Sprinkle with grated cheese and a drizzle of crema.
Drink Pairings