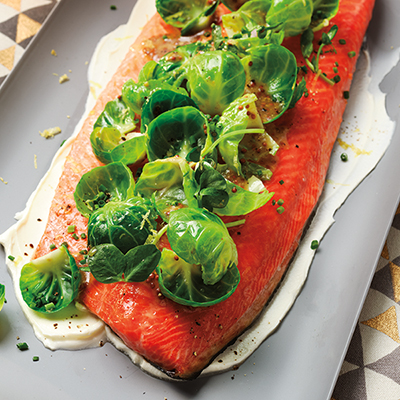 SLOW-ROASTED SALMON WITH BRUSSELS SPROUTS
Ingredients
Serves 4
1 x 1¾ to 2 lb (840 g to 1 kg) fillet wild sockeye salmon, skin removed
salt and pepper, to taste
10 Brussels sprouts, leaves picked
2 tbsp (30 ml) grainy mustard
2 tbsp (30 ml) Champagne or white wine vinegar
¼ cup (60 ml) + 1 tbsp (15 ml) olive oil, divided
¼ cup (60 ml) crème fraîche
1 handful pea shoots, for garnish
Instructions
Remove any pin bones from salmon. Place on a parchment-lined baking sheet. Season with salt and allow to sit at room temperature for 30 minutes. Preheat oven to 300 F (150 C).
Prepare a large bowl of ice water.
Blanch Brussels sprouts leaves in salted boiling water just until they turn bright green, about 30 to 45 seconds, then drain and transfer to prepared ice water. Once cool, drain in a colander and allow to dry on paper towels.
Whisk together mustard, honey, lemon juice, vinegar and ¼ cup (60 ml) olive oil. Season with salt and pepper. Set aside.
Drizzle remaining 1 tbsp (15 ml) olive oil over salmon, then roast for 20 to 25 minutes, until it flakes with a fork and is just opaque at thickest point, or until cooked to desired doneness.
Spread crème fraîche on a platter long enough to fit salmon. Place salmon on crème fraîche. Toss Brussels sprouts with half the dressing. Garnish salmon with Brussels sprouts, pea shoots and lemon zest. Drizzle with remaining dressing and serve.
Drink Pairings