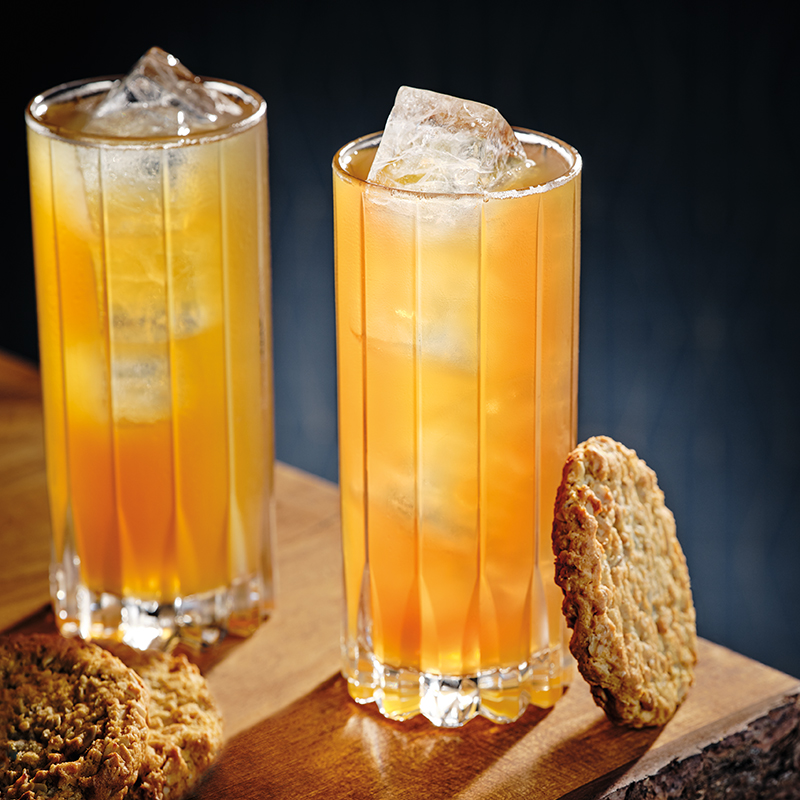 Smoked Apple Rickey
The smoky character of peat can be a wonderful contrast or complement to a cocktail. Experience it firsthand with the Smoked Apple Rickey cocktail.
Ingredients
Serves 1
1½ oz (45 ml) The Famous Grouse Smoky Black Blended Scotch Whisky
¾ oz (22 ml) Apple Cinnamon Cordial*
3 oz (90 ml) sparkling apple juice
oatmeal cookie, for garnish (optional)
Instructions
In a mixing glass with cubed ice, add peated whisky, apple cordial and lemon juice. Stir to combine. Strain into a chilled Collins glass, add sparkling apple juice then fill glass with cubed ice. Garnish with an oatmeal cookie, if desired.
*To make Apple Cinnamon Cordial, in a small saucepan over medium heat, combine 2 cups (500 ml) unsweetened apple juice with 2 cinnamon sticks broken into a few pieces. Reduce apple juice by half to yield 1 cup (250 ml), approximately 10 to 15 minutes. Remove larger pieces of cinnamon and strain through a coffee filter to remove all particulates. Rinse saucepan and combine apple-cinnamon mixture with 1 cup (250 ml) sugar. Simmer to dissolve. Store refrigerated, up to 1 month. Makes 1 ¼ cup (310 ml).
Featuring