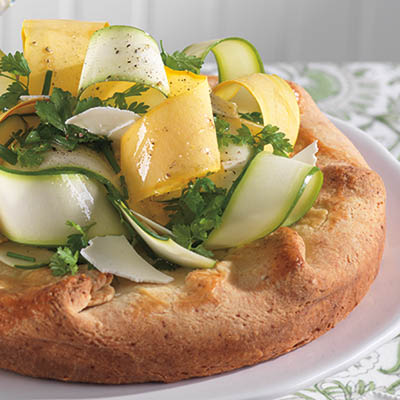 SMOKED HAM AND RICOTTA TART WITH ZUCCHINI SALAD
Ingredients
Serves 6
1¼ cup (300 ml) all-purpose flour, plus extra for dusting
¼ tsp (1 ml) salt, plus extra to taste
½ cup (125 ml) unsalted butter
½ cup (125 ml) finely grated Parmesan
2 tbsp (30 ml) sour cream
1¼ cup (300 ml) ricotta cheese
freshly ground black pepper, to taste
5 oz (140 g) thinly sliced smoked ham
½ cup (125 ml) fresh chervil
⅓ cup (75 ml) fresh parsley
2 tbsp (30 ml) chopped fresh chives
½ cup (125 ml) shaved ricotta salata
2 tbsp (30 ml) extra-virgin olive oil
1 lemon, cut into 8 wedges
Instructions
Start recipe by making Pastry for tart. Place flour, salt, butter and Parmesan in a food processor and pulse until mixture resembles fine bread crumbs. Add sour cream and egg yolk before processing until a smooth dough forms. Transfer to a lightly floured work surface, form into a disk, wrap in plastic wrap and refrigerate for 1 hour.
Meanwhile preheat oven to 400 F (200 C). Lightly grease a 9-in (23 cm) pie plate with olive oil and set aside.
Once chilled, roll pastry out on a lightly floured work surface into a 12-in (30 cm) round. Line prepared pie plate with pastry, leaving excess overhanging edges of plate.
To make FILIING: In another bowl, with a wooden spoon, stir together ricotta, 1 egg, garlic and a good pinch of salt and pepper until well combined.
Lay ham in pastry shell and top with ricotta mixture. Fold in overhanging pastry over filling. Pastry will overlap itself at intervals.
In a small bowl, whisk remaining whole egg and brush over pastry crust. Bake tart until golden brown, about 25 to 30 minutes.
While tart is baking, prepare ZUCCHINI SALAD to be served alongside tart. Thinly slice yellow and green zucchini lengthwise with a vegetable peeler to create long ribbons. Add to a large bowl and gently toss along with parsley, chervil, chives, ricotta salata, olive oil and juice from 4 or 5 lemon wedges. Season to taste with salt and pepper. Serve slices of ricotta tart warm with Zucchini Salad on top.
Drink Pairings