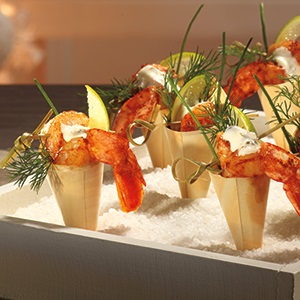 SMOKED PAPRIKA SHELLFISH WITH CILANTRO-LIME DIP
Ingredients
Serves 8
½ cup (125 ml) each, mayonnaise and sour cream
½ cup (125 ml) finely chopped cilantro
2 tbsp (30 ml) finely minced red onion
2 tbsp (30 ml) rinsed and drained capers, chopped
1 tbsp (15 ml) minced fresh dill
1 tbsp (15 ml) lime juice
1 small Thai red chili pepper, seeded and finely minced
SMOKY SCALLOPS AND PRAWNS
2 tsp (10 ml) each, ground cumin and smoked paprika
1 generous pinch sea salt
fresh chives, for garnish
1 lime, cut into 8 thin wedges, for garnish
Instructions
In a small bowl, combine Cilantro- Lime Dip ingredients. Stir briskly together until blended. Cover and refrigerate.
Place oven rack 6-in (15 cm) from broiler and preheat broiler to 500 F (260 C). Lightly oil baking sheet and set aside. Remove muscle from scallops and pat scallops dry. Place in a large bowl. Peel and devein prawns, leaving tails intact. Blot dry and add to scallops.
In a small bowl, combine cumin, paprika and salt. Stir to blend. Then, using a small sieve, sprinkle evenly over top of shellfish and gently work in with fingertips. Spread in a single layer on baking sheet. Place on top rack in oven and broil for 1 minute. Using tongs, flip scallops and prawns. Return to broiler for 1 more minute or until opaque. Drizzle with lime juice.
Place 2 tsp (10 ml) Cilantro-Lime Dip in bottom of each bamboo cone. Top with a scallop and prawn. Garnish with a sprig of dill, fresh chives and a lime wedge and serve immediately.
Drink Pairings