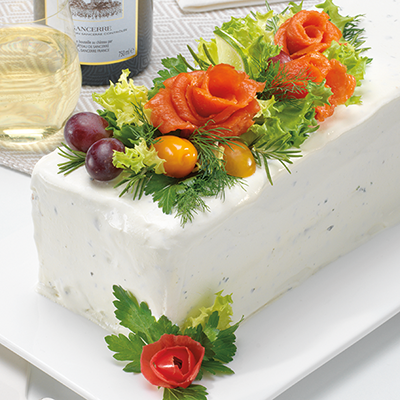 SMOKED SALMON AND CAPERS SANDWICH LOAF
Ingredients
Serves 8 to 10
4 cups (1 L) cream cheese
3 x 5.2 oz (150 g) packages Boursin cheese (Garlic and Herb, or any flavour as desired)
16 slices of dark bread (brown, rye or Pumpernickel), approximately 4 x 4-in (10 x 10 cm) after crusts removed
1 cup (250 ml) butter, at room temperature, divided
2 lbs (1 kg) smoked salmon, divided (for layers and garnish)
½ cup (125 ml) red onion, thinly sliced
Optional garnish suggestions: limes, sage, cucumber, blueberries and curly leaf lettuce
Instructions
In a large mixing bowl, blend together cream cheese and Boursin until smooth.
On a serving platter, lay 4 slices of bread face down to form approximately 4 x 16-in (10 x 40 cm) rectangle. Evenly spread ⅓ butter, followed by ¾ cup (175 ml) cheese mixture. Reserving 4 to 5 thin fillets of smoked salmon for garnish, cover surface of bread with ⅓ of remaining smoked salmon. Loosely scatter ⅓ sliced red onion and 1 tbsp (15 ml) capers. Cover with 4 slices of bread. Repeat this process 2 more times. Snuggly wrap with plastic wrap and chill for 4 hours. Refrigerate remaining cheese mixture and smoked salmon until ready to assemble.
When chilled, remove plastic wrap and frost sides and top with cheese mixture. Decorate surface with remaining smoked salmon along with other optional garnish suggestions, as desired.
Drink Pairings