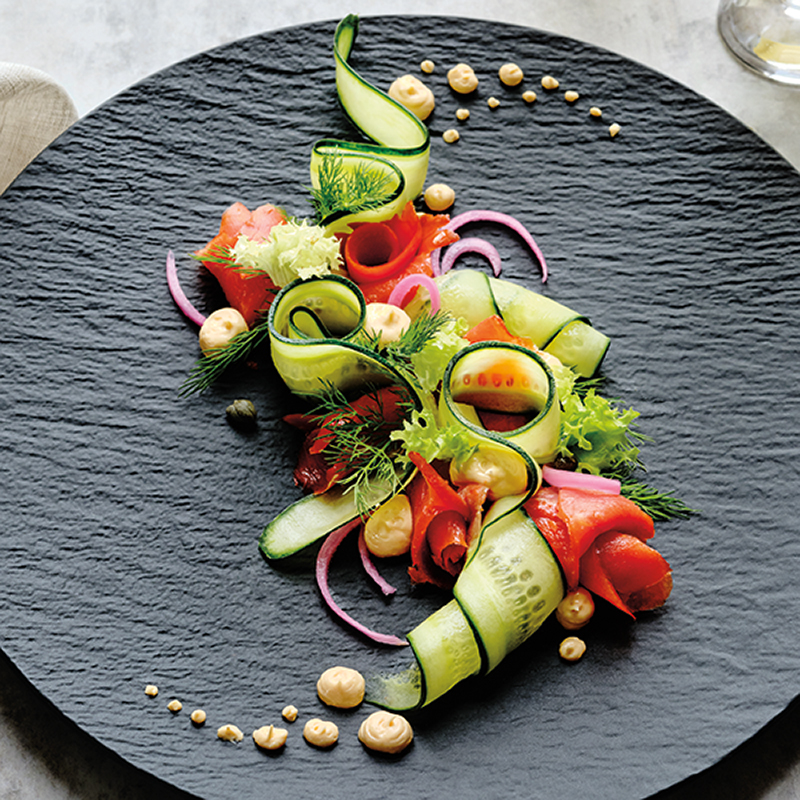 Smoked Salmon & Cucumber Salad with Sriracha Aioli
Ingredients
Serves 3 to 4
Sriracha Aioli, make ahead, recipe follows
4 oz (125 ml) cream cheese, softened
salt and pepper, to taste
2 English cucumbers, thinly sliced lengthwise into strips
7 oz (200 g) thinly sliced smoked salmon, cut into roughly 4-in (10 cm) strips
½ cup (125 ml) Pickled Onions, make ahead, recipe follows
½ cup (125 ml) lukewarm water
2 tbsp (30 ml) granulated sugar
½ cup (125 ml) apple cider vinegar
1 red onion, thinly sliced
1 to 2 tbsp (15 to 30 ml) capers, to taste
¼ cup (60 ml) fresh dill leaves
½ cup (125 ml) curly endive leaves
Instructions
TO MAKE SRIRACHA AIOLI: Using a hand blender or food processor, blend all ingredients until smooth. Use immediately or store in an airtight container and refrigerate for up to 3 days. Makes about ¾ cup (175 ml)
Spoon 2 tbsp (30 ml) Sriracha Aioli onto each serving plate. Roll cucumber into curls and arrange over aioli.
Make smoked salmon rosettes by stacking roughly 3 to 4 smoked salmon strips on top of each other, about ½-in (1.25 cm) askew. Roll from one end to the other. Using a sharp knife, carefully cut rolled salmon in half. Placing cut edge on plate, lightly flare out top edges of rolled salmon halves into rosettes. Place as desired around cucumber curls.
Top with Pickled Onions and capers to taste, then garnish with dill and curly endive as desired.
TO MAKE PICKLED ONIONS: In a large non-reactive bowl, stir together water, sugar, salt and vinegar until sugar is dissolved. Add onion and mix well. Cover and refrigerate for at least 1 hour before serving. Will keep in refrigerator in an airtight non-reactive container for up to 1 week. Makes about 1 cup (250 ml)
Using a piping bag or squeeze bottle, pipe remaining Sriracha Aioli around salad to decorate.
Drink Pairings